How To Make A Red Carpet Event With A Carpet Runner And Velvet Rope Stanchions
Article published on Aug 18, 2020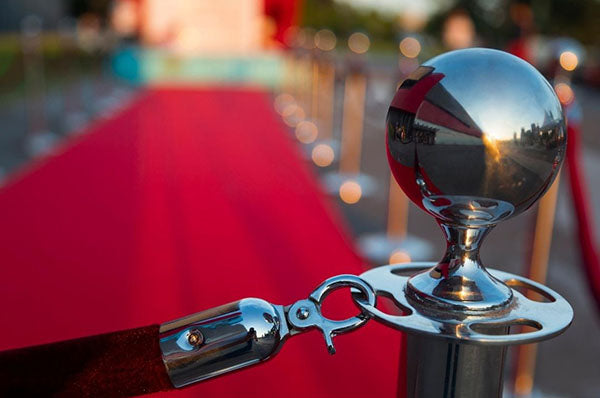 ---
How do you make a red carpet event with velvet rope stanchions?
The association of red carpet walkways with the lofty glamour of royalty and fame dates all the way back to the tales of Agamemnon and Troy in 458 BC, describing this treatment as one fit only for the gods. Today our opinion is not so different, as we reserve red carpets for celebrities, aristocrats, and prom queens. 
Lofty as it may seem, achieving the red carpet look is both easy and affordable with the use of classic stanchion posts and velvet ropes.
In this post we'll demonstrate just how easy it is to create a red carpet look with velvet ropes and stanchion posts. To achieve this look, you'll just need 3 primary elements:
1. A long, narrow carpet runner.
2. 2 classic stanchion posts for every ~4 feet of carpet.
3. 2 fewer velvet ropes (of ~6 feet) than classic stanchions. 
(Making it even easier, many crowd control suppliers sell kits with all of these elements already included, like this  red carpet and velvet rope stanchion kit.)
The movies "Do Little", "Brave", and "Epic" each had green carpets for their movie premiers. Eurovision 2018 in Lisbon, Portugal used a royal blue carpet for its events. While it may seem a bit counterintuitive, a red carpet style can still be achieved with any color of carpet.
Having said that, there are some consistent traits all event carpet runners tend to maintain. For instance these event carpets should meet the following standards:
A red carpet runner should be lightweight enough for easy set up and tear down.
Event carpets should be durable enough to withstand an evening full of foot traffic without bunching or color bleeding. (For instance some low-cost event rugs are made of felt materials which bleed and bunch. Watch out for this as you review the lower cost red carpet runners for sale).
Despite needing to be durable, event carpets should also be low-profile enough to prevent tripping. 
Despite needing to be durable, event carpets should also be low-profile enough to prevent tripping. 
Selecting stanchion posts for VIP events:
Classic stanchion posts are typically designed with elegant event themes in mind, fashioned with ornamental finials and reflective finishes like polished brass, polished silver, and polished copper. As modern events branch out from these traditional trends however, other finishes and designs become more and more popular as well. 
The most common designs however include:
Also at the top of these classic stanchion posts is some form of loop for receiving velvet ropes, which we'll discuss next.
There's one crucial part of the red carpet event look which we've not yet discussed - the traditional velvet rope. Perhaps just as crucial to red carpet decor as the red carpet itself, velvet ropes are a necessity for this look.
Velvet ropes typically come with snap clip ends in the same finish as the stanchion post itself, making it incredibly easy to set up. The ends simply clip onto the stanchion post's loops.
How much velvet rope should you use for a 20 foot red carpet?
When choosing your length of rope, make sure to allow for some draping of the rope, (as taught ropes do not look natural). For instance try to ensure that each carpet side has ~20% more rope length than the carpet's full length.
Velvet rope and red carpet kits:
Calculating the right amount of ropes and carpet is easy enough, but if you'd like to eliminate the need for these calculations, you can also find pre-made red carpet kits which include all needed classic stanchions, velvet ropes, and the carpet itself.
Want to learn more about stanchions? Read our posts on Forming a Line and Crowd Control Basics for Retail Businesses.
---
Share this post

---
---