5 Tips on How to Order Stanchion Ropes Like a VIP
Article published on Oct 23, 2018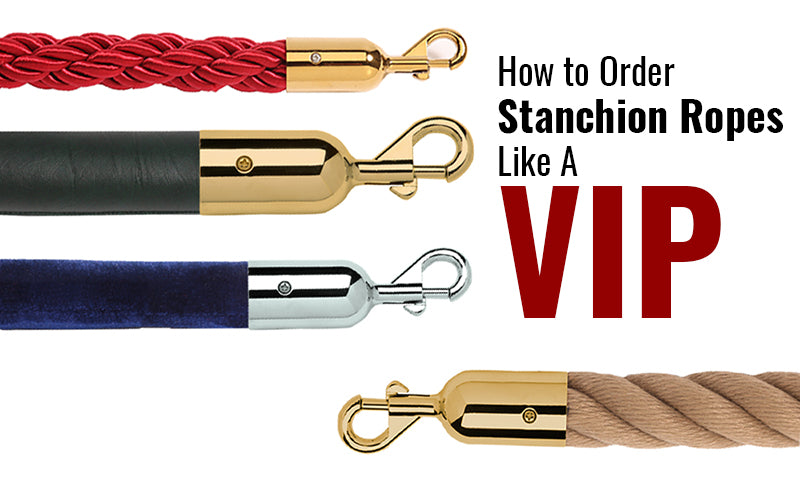 ---
So you've got a fancy event coming up with a lot of RSVPs. Or maybe your service business is doing so well that you've got lines out of the door. Perhaps you're trying to show a brand new car at your successful dealership. If this sounds like you, you're in need of some crowd control, but not just any crowd control. You need the kind of crowd control that embodies the glamour of your tasteful success; you need the kind of crowd control that makes your audience feel less like a herd of sheep and more like a Hollywood star, escorted to the main event. As you review the many kinds of stanchion ropes for sale, you may feel a bit overwhelmed, and, let's face it, you don't have a lot of time to make mistakes in your order. Don't fret-- below are several tips to help you get the best rope barrier for your needs.
1. Where are you installing stanchion ropes in your venue or business?
While some businesses may need stanchion ropes for outdoor entry lines, others may need to protect indoor exhibits. In either case, you want to choose the right material based on the location where the ropes will be used. Here are some questions to ask yourself as you shop for rope barriers...
Is this a classy, indoor affair? → Velour velvet ropes or leather-style naugahyde ropes are popular for indoor uses where aesthetics are more important than weather-durability.
Are you setting up a waiting line or barrier outdoors? → Poly Hemp or Polypropylene ropes are both attractive and suitable in all weather.
Making sure that you keep in mind the environment in which this rope will be used ensures that you don't arrive onsite to a soaking wet velvet rope after a night full of storms. This also helps your stanchion ropes to last through years of use.
2. Make sure your rope barriers match your venue's other fixtures.
Just as you wouldn't want your door knobs to be silver while light fixtures and banisters were brass, you can also purchase velvet ropes with snap ends that match the existing stanchion posts and fixtures within your venue. These finish variations are fairly straight-forward:
'Polished' finishes are shiny and highly reflective.
'Satin' finishes are muted and more matte in appearance.
Our best piece of advice is to make sure your rope ends match your stanchion or wall loop finish. There is nothing worse than opening a brand new package to find that you ordered satin brass rope ends for your polished chrome stanchion. Talk about a red-carpet don't!
3. Be creative with color
It might be easy to go with a classic red velvet rope, but keep an open mind when it comes to color coordination. Will the decorations be blue? Maybe go for blue rope! Do you have a lot of browns and wood in your space? Maybe a green rope will match the brand colors for a corporate event or the team colors for a University event. Always be sure to keep the event's color theme in mind when choosing your velvet stanchion ropes.
4. Make sure your rope has the right "swag"
Swag is the way the rope hangs when attached to two stanchions. 
It's important to note that the swag will be impacted by two factors: rope type and stanchion placement.
Rope Type is important because some materials weigh more than others, increasing the swag of the rope itself.
Heavy-duty velour, Poly Hemp and Polypropylene ropes → are made with heavier materials that weigh the rope down to give it that true elegant rope swag.
Economy ropes → budget ropes are filled with light-weight materials like poly-fill and are great if you are on a tight budget. The reduced weight might not look and feel quite as weighed down as the heavy-duty ropes.
Stanchion Placement is another swag factor. You want your swag to be just right.
If you place your stanchions too close together, the ropes may droop too much and give you too much swag.
If you place your stanchion posts too far apart, the swag may be non-existent.
Expert Tip for Perfect Rope Swag: Use a string as a cheat to know what length rope you need. I know -- it's genius. Before you are set on a length, use a piece of yarn or string to measure your space. Add about 3-6 inches for a lovely swag and ask some friends to see what it looks like before you purchase.
You can't find that length on the website? Not a problem at all! Crowd Control Warehouse sells custom ropes so that your ropes are absolutely perfect. Just email us at sales@crowdcontrolwarehouse.com to get the length you need.
5. Call me, beep me if you want to reach me.
No question is a stupid question. Please email or call us if you need any help! 
Email Us: sales@crowdcontrolwarehouse.com
Call Us: (877) 885-1600
If you've followed these tips, you're ready to be the classiest in your business!
---
Share this post

---
Tags:

Buying Guides, Resource Center
---