The Steel Barricade Buying Guide
Article published on May 08, 2019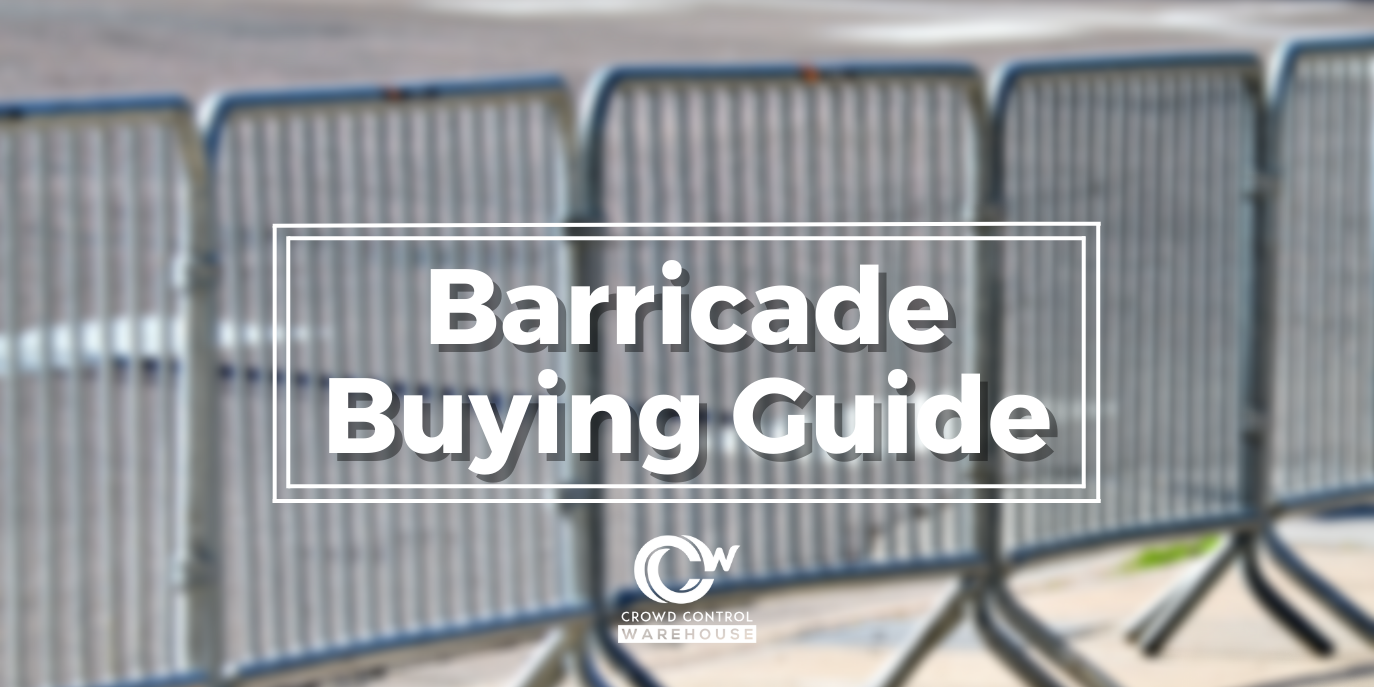 ---
Table of Contents:
---
Whether you work in construction, government or entertainment, purchasing barricades is easier when you're more familiar with the different features and variations. While barricades seem standard, certain features make more or less sense depending on your specificcrowd control needs.
Do you need barricades that will survive outdoor weather and hard rain? Will they need to be sturdy on uneven ground? Will the crowd need an access point through the barricades? Will these barricades be permanently fixed, or will they have to be moved and stored? These are key considerations when comparing the different barricades for sale.
Here are some things to keep in mind when buying steel barricades:
Barricade Types: Metal barricades are categorized by the exterior coating and feet design.
Barricade Compatibility: Barricades are built to last. When you need to buy more barricades, you must consider features for compatibility. Variations in welding and hooks, the number of barricades you need, and barricade durability indicate compatibility.
Barricade Extras: Find out about additions and compatible products for your barricades. Storage carts, swing gates and jacket covers may be necessary for your particular event.
Use Cases: Learn more about the many ways barricades can be used in your industry so you can get the most out of your purchase. 
Barricade Types
Quick Guide to Barricades 
| | | |
| --- | --- | --- |
| FEATURE | DESCRIPTION | USES |
| Hot Dipped Galvanized | This is when barricades are dipped in hot zinc coating after they have been fully constructed and assembled, creating a rust-proof seal.  | Hot dipped galvanized barricades are extremely durable and are the best choice for use outdoors, where they can withstand harsh weather conditions for an extended period of time without rusting. |
| Pre-Galvanized | Barricades that are coated with a lighter galvanization layer before full assembly, leaving joints un-sealed. | Pre-galvanized barricades are more suitable for short-term indoor use, where they are less susceptible to rusting. |
| Powder Coated | Powder coating spreads a smooth layer of pigment, fully coating the barricades in color coatings with more durability than standard paint. | Powder coating adds customization, where the barricade can have extra visibility and aesthetic coordination for special events, while also contributing to weather-resistance and durability. |
| Barricade in a Box | This type of barricade easily breaks down into two separate pieces for easy storage and shipping. It is an 8.5 Ft. Interlocking steel barricade available in powder-coated gray and marine grade steel. | Barricade in a box is ideal in circumstances where storage space is limited or ease-of-use is prioritized. Because these barricades can easily be broken down into smaller pieces, they are very easy to handle and store. |
| Bridge Feet (see below) | Bridge feet are removable and shaped like a bridge. A bridge feet pair comes with a large bridge foot and a small bridge foot for increased stability. | These are typically used on uneven surfaces such as grass, gravel and slight hills or inclines. |
| Flat Feet (see below) | Flat feet are removable and made to lay flush to the ground, minimizing space and tripping hazards. | These are often used indoors or on flat surfaces such as concrete. |
Barricade Feet
Bridge Feet 
Bridge feet are removable from the barricade frame for easy storage when the frames are laid flat. Bridge feet "pairs" come with one large bridge foot and one small bridge foot. The large and small feet allow for barricades to be set up perpendicular, creating a corner so the feet can overlap without obstacle. Bridge feet are recommended to increase stability and sturdiness, and when using barricades on uneven or inclined surfaces.
Bridge feet attach to a barricade using 1/4"-20 hardware. You can find these nuts and bolts at most hardware stores.
Pros:
Wide-stance provides extra stability on hills and uneven surfaces
Feet can be easily disassembled for easy transportation and storage
Cons:
Feet do not come attached; must be assembled before use
Flat Feet 
Flat feet are recommended for flat, even surfaces. They can be bolted to the ground for a more permanent fixture. Flat feet "pairs" come with two identical feet.
Flat feet attach to a barricade using 1/4"-20 hardware. You can find these nuts and bolts at most hardware stores.
 Pros:
Easily drilled into surfaces for a permanent fixture
Feet can be easily disassembled for easy transportation and storage
Take up less surface area than bridge feet, reducing tripping hazards
Cons:
Less stability on uneven surfaces
Feet do not come attached; must be assembled before use
Roller Feet
Roller feet are perfect for surfaces like concrete, and they are very portable and easy to use. Roller feet are available for our 6.5 and 8.5 feet barricades, and available as replacement parts for the 8.5 ft. Heavy-duty steel barricades.
*Note: we cannot guarantee compatibility with similar products from another manufacturer.
Pros:
Portable
Great for use on flat surfaces
Cons:
May not be compatible with barricades from other manufacturers.
Barricade in a Box 2.0
Looking for the next best thing in steel barricades?
We offer our 8.5 ft Heavy Duty Interlocking Steel Barricade in hot dipped galvanized or black powder coated finishes that can easily be broken down for storage or shipment. Unlike other steel barricades which are one solid piece, Barricade in a Box 2.0 can be disassembled into two smaller pieces.
These barricades are manufactured from steel, and have outstanding weather protection. Our barricades interlock using a simple hooking mechanism to prevent one barrier from being removed in a line of continuous barriers. Equipped with your choice of available removable feet; Flat feet (ideal for level surfaces and to keep tripping hazards to a minimum) or Bridge feet (for grassy areas or uneven terrain).
Learn more about Barricade In a Box.
Barricade Features
What are other important features to consider when buying a barricade?
Welding type and hook variations should also be considered during the buying process.
| | |
| --- | --- |
| | Full Circumference Weld - Each pipe on a barricade is welded all the way around the pipe connections, ensuring it is sealed as tightly as possible to the frame.  |
| | Saddle Weld - When a pipe is cut (often called a saddle cut) to fit exactly within the frame, and then welded together for a more precise and secure connection. |
| | Interlocking Hooks - Hooks on the sides of barricades that can easily slide in and interlock with other compatible barricades. You can figure out if your barricades are compatible using the diagram below (see Barricade Compatibility). |
Barricade Compatibility
How do you know if your metal barricade is compatible?
Barricades are extremely long-lasting products. Because of this, customers often wonder if their old barricades will be compatible with their new purchase. While there is no guarantee that a barricade will match perfectly, there are a few key things to look for when determining compatibility. See below measurements to ensure you are purchasing a compatible barricade. 
If A, B and C for the new barricade have roughly the same measurements to your old barricade, then the barricades have interlocking compatibility.
For example, here are the measurements you may want for our classic steel barricades.
Barricade Extras
Thinking about an easier way to move your barricades? What about adding a gate that people can walk through? Or maybe you need a new way to promote your brand and your current barricades just won't cut it. With add-ons and extras such as carts, gates and jackets, you not only have more functional options but you can add personalized style and design as well. 
| | |
| --- | --- |
| | Barricade Carts are used for transporting and storing barricades. Each cart fits roughly 24-30 barricades, saving time and space. |
| | Swinging Gates are openings within a series of connected barricades. These gate openings are hooked on to an existing barricade and swing open and closed on a set of wheels, allowing ease of movement. |
| | Barricade Jackets are covers that fit over the frame of the barricade and can be customized with branding, messaging, sponsor logos, etc. Made of heavy-duty material, these covers will last in extreme weather conditions and also offer a variety of colors, styles, fonts and imagery for your individual branding needs. |
Barricade Jacket Color Options
Use Cases & Industry Applications
Oftentimes industries and organizations seek barricades for a single event. While it may seem easier to rent barricades for temporary use, it is much more cost-effective to purchase them outright and have barricades accessible and on hand for a variety of different events and functions. 
In the chart below, we list a number of examples and use cases based on customer data.
 Industry
 Examples
 Public Events

Street Fairs
Parades
Parks and Recreation
Art Walks
Age-Restricted Areas (i.e. Alcohol Purchases)
Staff Only Areas
Concerts

Schools

Graduation
Social Distancing
Sporting Events
Playgrounds
Fundraisers

 Businesses

Queuing & Social Distancing 
Store Openings
Parking Lots
Special Events & Sales (i.e. Black Friday)
Branded Barricade Jackets

Government & Public Works

Police & Fire Department
Construction Zones
Driving Practice & Exams
Traffic Flow

 Other

Outdoor Queuing
Parking Lots
Janitorial & Operational Areas
Frequently Asked Questions
1) Should I rent barricades or buy them?
For some, the upfront cost of purchasing metal barricades can feel like a big number to swallow when compared to the cost to rent.
But as with any financial decision you make for your business, it's important to consider which option is more cost effective in the long run. Unless you'll only be using metal barricades on three days throughout the entire life of your business purchasing metal barricades is a sounder financial decision.
The cost of renting a metal barricade starts at $15 a day for 6.5 ft. barricades and only goes up from there.
To create even a modest barrier or queue, you would need to rent at least 20 barricades at around $300 a day, plus the related costs of delivery, setup, and removal.
Even if you decide to arrange your barricades yourself, most barricade rental services will charge you the related service fee as a part of their rental "package."
Combined, you're looking at a minimum cost of $500 a day, or $25 a barricade.
On the other hand, the cost to purchase a metal barricade starts at $95, and you can use your own employees to set up and take down the barricades, saving you the cost of the service fee.
That means you only need to use your barricades 3.5 times to make purchasing the barricades more cost effective than renting them.
Even better, when you own your barricades, you'll never have to worry about whether or not the delivery guys will show up on time.
2) Which length metal barricade do I need?
If you decide the best option is to purchase your own barricades, the next important decision you'll need to make is which length best suits your needs.
Keep in mind: it's better to purchase barricades that are all the same lengths than barricades of different sizes.
Barricade storage carts (rolling carts designed to maneuver and store barricades) work best when loaded with uniform metal barriers. Barriers of multiple lengths aren't designed to stack up against one another and will jostle around when the cart is moving.
The best barricade length for your business or event will depend on whether you're setting up a queue (a line that filters crowds from an entrance to an exit point), or a barrier (one unbroken line of metal barricades blocking a crowd).
If you're setting up a queue… Our 6.5 ft. barricades are probably your best option. The smaller lengths are more efficient for setting up a winding queue to create tight corners.
If you're setting up a barrier… Purchase 8.5 ft. barricades. The longer the barricade, the less you'll need to set up your barrier, which is particularly beneficial when setting up a very long straight line.
3) What kind of barricade finish should I choose?
Metal barricades come in three finishes: hot-dipped galvanized steel (silver), powder coat color finish, and pre-galvanized.
All varieties are weatherized and rust-resistant. The main difference between the three is that the colored variety costs slightly more.
So how do you decide between the three finishes?
For events like political rallies and concerts or places like public parks, national parks, and local schools, hot-dipped galvanized steel finishes are the standard. Because the standard color is so popular, they blend into their environment and control crowds without standing out (read more about why it's essential to utilize non-invasive crowd control tactics).
For construction zones, facilities, or warehouses, orange-colored powder coat barricades are the standard. The bright orange color is a universal signal for caution, providing an extra layer of protection around potentially dangerous areas.
For universities, large retail stores, and sports complexes, powder coat metal barricades allow you to match your barricade's color to your brand or school's colors.
Pre-galvanized steel barricades are the best choice when budget is a concern, as these are the least expensive of the three finish options. However, barricades with this type of finish are not nearly as resistant to rust and weather as other finish types and are best utilized indoors. We do not recommend using pre-galvanized steel in environments with sea air, heavy rain, or snow.
4) Which type of barricade feet should you choose?
There are three types of barricade feet: flat feet and bridge feet.
Flat foot barricades have long, flat surfaces on the bottom of their feet. These work best on city streets, sidewalks, tarmacs, and outside stadiums and sportsplexes, because they grip onto flat surfaces.
Bridge foot barricades have two, pointed bridge feet on either end of the barricade. These work best on uneven surfaces like at beaches, on golf courses, on gravel, on grass, and in public parks.
Roller feet barricades have two sets of wheels, one on either end, that make positioning and storing the barricade easy and painless. These are most effective when used on flat surfaces.
5) Will you need swing gates?
Steel metal barricades interlock and form a strong barrier when set up in a line. By design, it's difficult to remove one section of the line from the others when a barrier or queue is set up.
When you need to allow pedestrians, small vehicles, or supplies through a line of metal barricades, barricade swing gates allow for efficient passage through your barriers.
Barricade swing gates are "gates" with wheels that swing open and lock closed. They come in two sizes: standard width, which allow for small groups or public service officials, and extra-wide width, which allows for small vehicles and loads of equipment or supplies.
6) Should you buy barricade covers?
Barricade covers are customizable slipcovers that slide on top of metal barricades and can be printed with logos, phrases, or other advertising materials.
If you want to take your team pride up a notch by putting your mascot directly on your barricade, or want to generate extra advertising revenue outside by additional ad space, barricade covers can help you do that.
Purchase Metal Barricades
We hope this comprehensive guide helps you find the right barricade. If you have any questions, please reach out to our customer support team for additional guidance. Email us at sales@crowdcontrolwarehouse.com or message us via live chat in the bottom right corner for a quote.
---
Share this post

---
Tags:

Buying Guides, Resource Center
---