Bored of red carpets? What are the new colors hitting the black-tie event scene?
Article published on Oct 27, 2021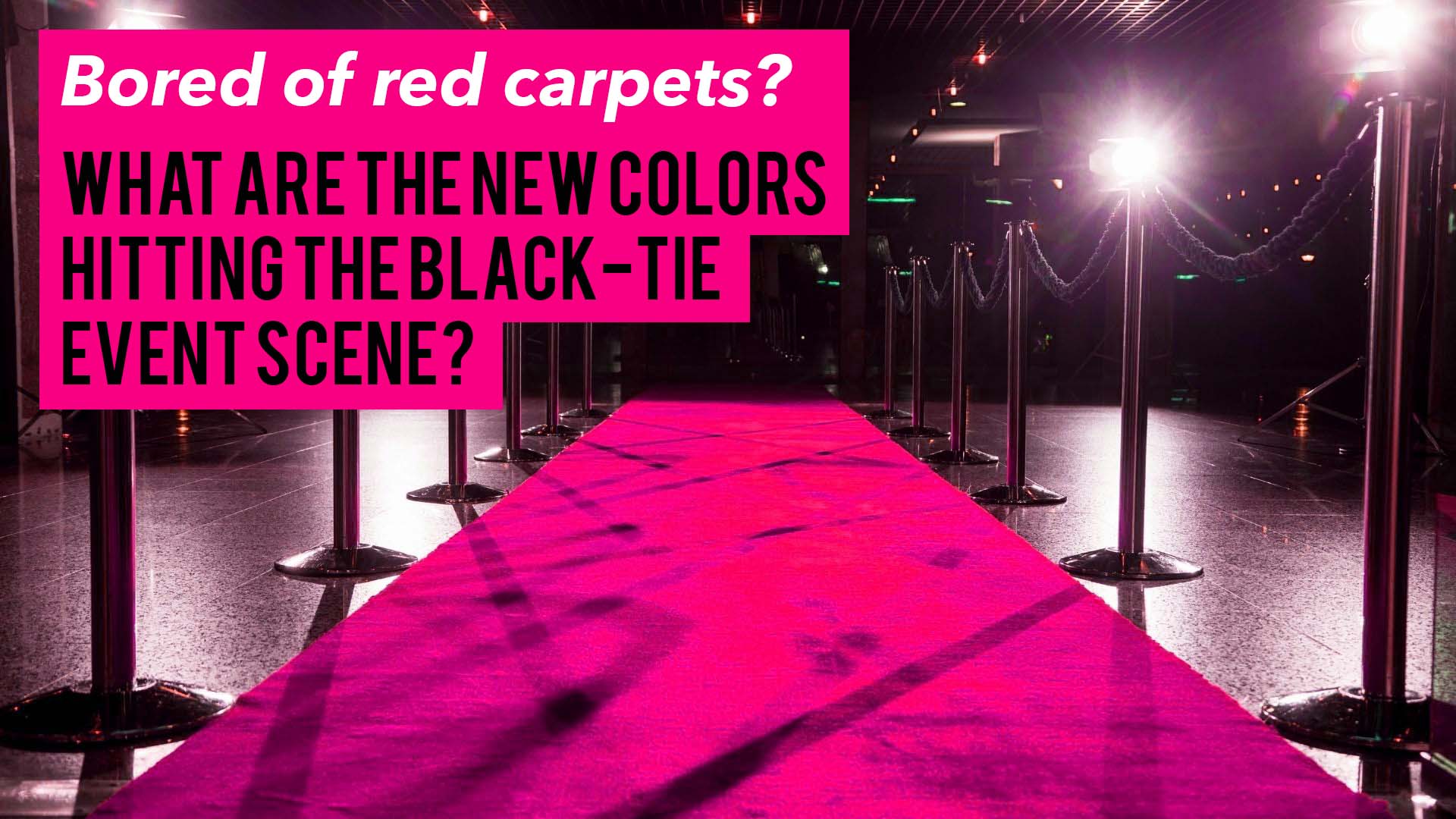 ---
Red carpets have been the symbol of (and even a nickname for) VIP events since their use in the early 1900's to welcome passengers onto the exclusive 20th Century Limited Passenger train, lauded as the "most famous train in the world". Soon after, Hollywood sealed the exquisite reputation of red velvet ropes and carpets by adopting them for film premiers and eventually every major award ceremony.
But times are changing and red will have to take a back seat to new color trends. In 2018 the Black Panther Hollywood premier welcomed celebrities onto a vibrant purple carpet, and this year Marvel's "Eternals" followed the lead with another nontraditional color, this time royal blue. 
Private events have been breaking this trend too. If you feel like you've been seeing a lot of maroon shades in your friends' weddings for instance, it's not in your head. Colors like "mauve", "champagne", and "dusty rose" have been dominating wedding wardrobes for the last year.
Velvet rope suppliers have been ready for this shift for quite some time, Crowd Control Warehouse included. Thanks to a hiqh-quality velvet stanchion rope from Montour Line, our collection has included standard velvet rope colors like red, black and blue for quite some time, and these are indeed among the top selling color options at Crowd Control Warehouse. But we've recently added Montour Line's specialty colors to our velvet rope collection as well.
This not only doubles our collection, but adds unique colors that are growing in popularity. For instance just as maroon is becoming more popular in wedding venues, it's also growing in popularity for velvet ropes. It has become another top selling velvet rope color for Crowd Control Warehouse, in fact.
But sometimes you want the opposite of what's "most popular". Some of the other more obscure colors in our new velvet rope collection from Montour Line may not be as popular or common as maroon has been, but just as fun. Colors like gold and bright pink for example can help make night clubs and theme parks stand apart from more traditional looks in a very intentional way. 
Here's a complete list of the new colors added by the Montour Line Velvet Rope Specialty Colors.  
Red and black certainly have their place in historical venues trying to achieve a classic look or harken back to the old-Hollywood days of the true red carpet events. But when an event venue decides it's time to make a splash with an unexpected color like bright pink or when gold has its moment in the wedding-trend sun, Crowd Control Warehouse is ready with these new, nontraditional colors. 
---
Share this post

---
---