Crowd Control Stanchions for Peak Seasons and Slow Seasons
Article published on Sep 01, 2021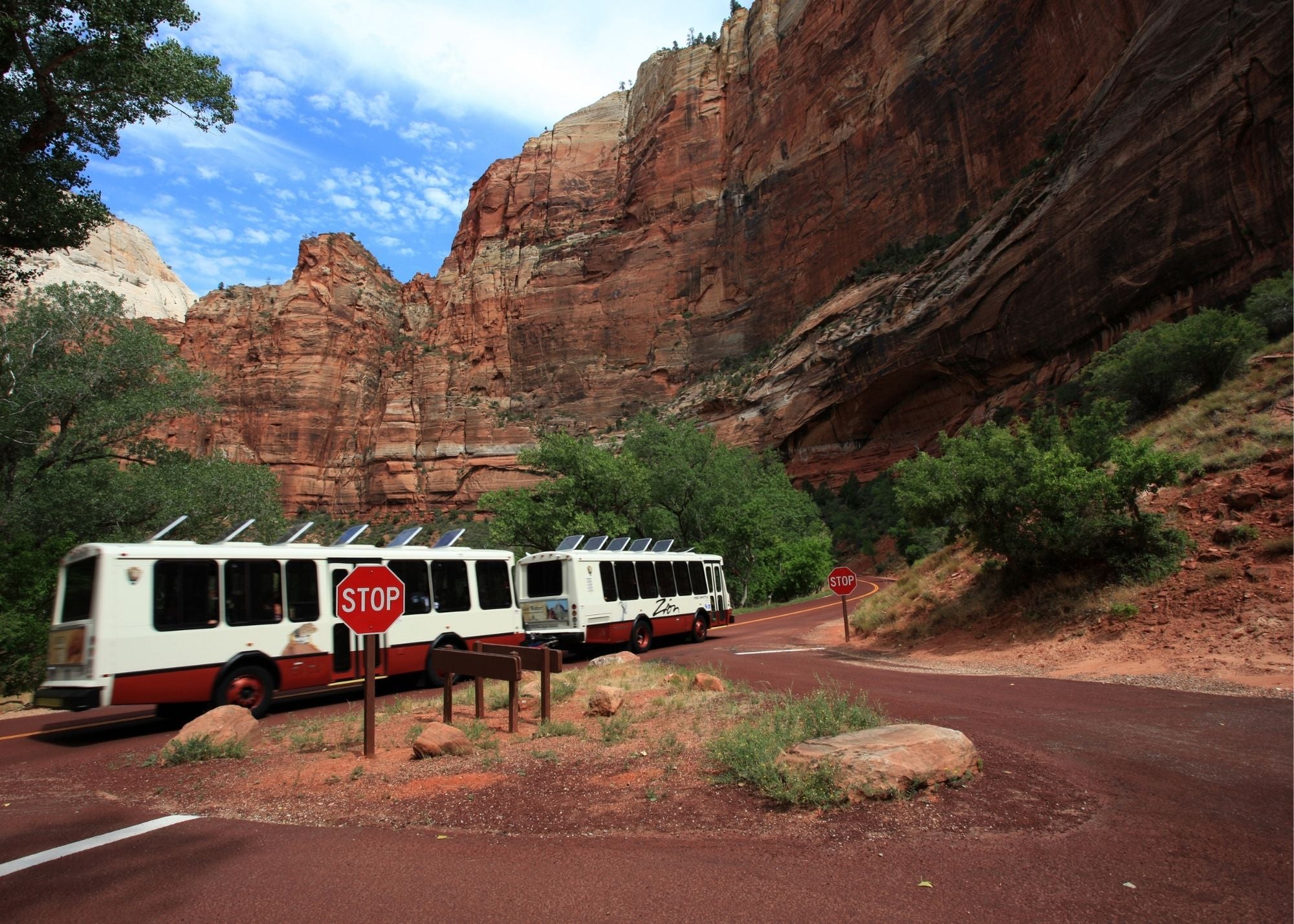 ---
While many industries struggled to stay open with the onset of the pandemic in 2020, National Parks saw a whopping 28% increase in their visitor attendance. For many of them, this meant new crowd management challenges and a need for new crowd control tools.
Zion National Park was one such example. Even before the pandemic, the National Park's geographical limitations restricted drive-in entry in peak seasons, demanding all guests enter the park via shuttle. But with a surge in visitors and limited shuttle capacities due to COVID safety measures, this meant longer lines than the National Park had traditionally seen before.
While this story may relate to changes brought on by the pandemic, it is not uncommon for industries to experience fluctuations in foot traffic. Theme parks like Disney Land and Disney World for example experience changes in attendance every season, with most guests visiting during school breaks and weekends, and attendance slowing down in the winter months.
This is one reason why it is so common to see retractable belt barrier stanchions in these types of seasonally recreational settings.
What makes retractable belt barrier stanchions so useful for seasonally fluctuating crowds?
Retractable belt barrier stanchions are typically thought of as the most versatile crowd control stanchions, available with belts that extend and retract as needed, and clip into other stanchions for complex waiting lines formations. Below, we'll highlight the specific features necessary for the kind of adaptability we've discussed above.
This image shows a retractable duel belt stanchion like this one, which has belts that extend up to 11 feet.
Retractable Belts
The most obvious feature with this type of stanchion is its retractable belt. Standard retractable belt barrier stanchions have belts which can extend up to 7 feet, but there are many other belt lengths available, even extending as long as 35 feet (as you'll see with this industrial, extra-length retractable belt safety stanchion). 
Having a belt which extends and retracts as needed means that you can also extend or minimize your line formation as your crowd volume changes.
Belt Braking Technology
When you search for retractable belt barriers for sale on our site or others like ours, you may notice the phrase "belt braking technology." This simply means that the retractable belt system includes a mechanism for slowing down, or gently braking, the retraction speed. This is important because retractable belts are made from a woven material which is quite durable, but could snag and fray if retraction speeds weren't limited by the belt braking feature. This goes a long way towards extending a stanchion's lifespan.
Belt Receivers
A simple retracting and extending belt is quite useful on its own, but without belt receivers at the top of the stanchion, continuous or complex line formations wouldn't be possible.
Most retractable belt barrier stanchions include 3 clips or "receivers" at the top so that other belts can be attached. This allows you to create a long, continuous barrier with multiple retractable belt barriers clipped end to end. 
Using one of the side clips also allows you to create bends or elbows in your line. You can read more about how to create complex line formations here. 
Being able to change your line formation without changing your stanchion inventory is extremely helpful in industries with fluctuating crowds, like those mentioned above. With the same collection of stanchions, you can make a wide variety of waiting line structures.
Stanchion Storage
Because stanchions are lightweight structures (made simply of a post and a belt), they are fairly easy to store, move, and set up. Stanchion storage is made even easier with stanchion storage carts like the ones available here. 
Conclusion
While customizations are available for retractable belt barrier stanchions, most of the features listed above are not specialized or custom features - these are simply the standard features which make retractable belt barriers such a convenient solution for fluctuating crowds. 
---
Share this post

---
---