What are barricade covers used for, and are you missing out by using barricades without them?
Article published on Jul 21, 2021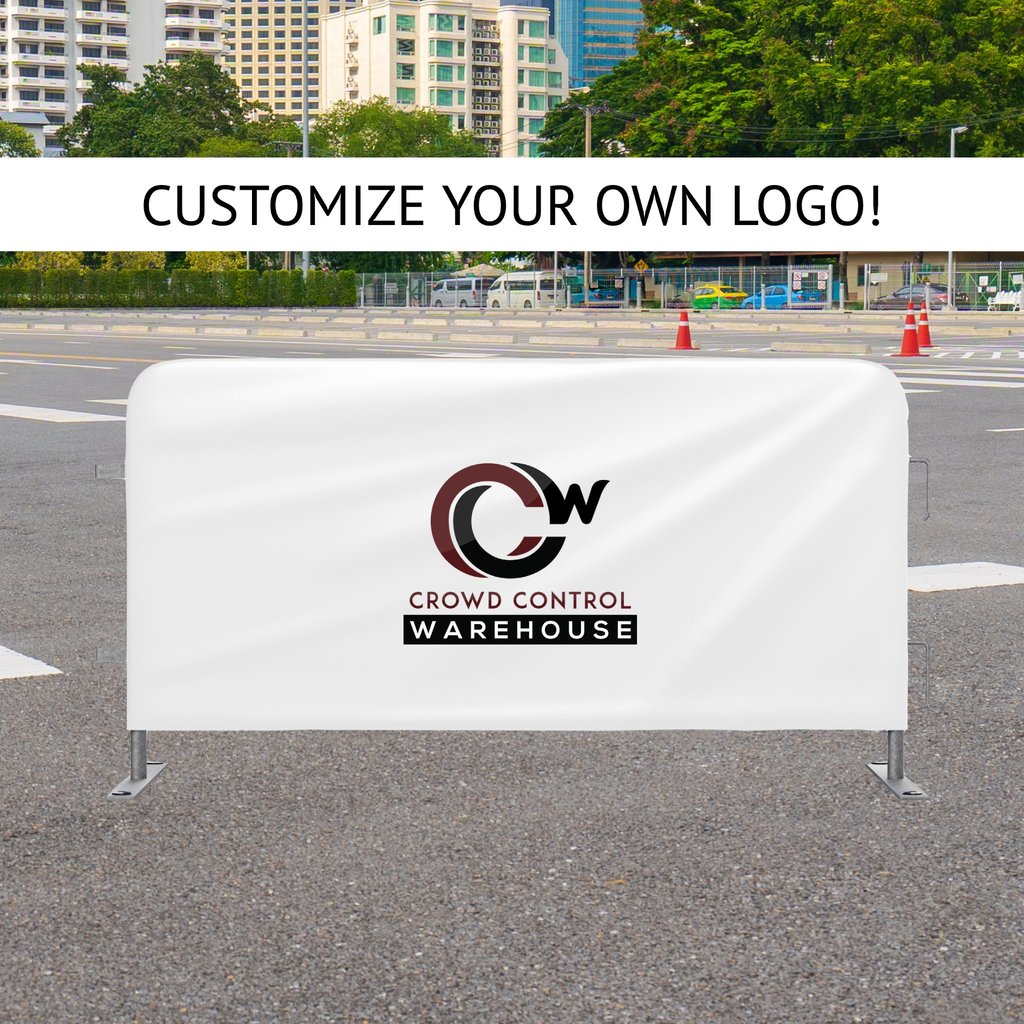 ---
Many steel barricades for sale are advertised as cost-efficient and effective crowd control tools, but an increasing number of customers have discovered a clever way to turn these crowd control barriers into marketing tools as well with the help of simple barricade covers. 
Maybe you're not too familiar with what a barricade cover is, or how it could be used as a marketing tool, so let's start with some basic information on their common uses.
Barricade covers, commonly referred to as barricade jackets, are lightweight covers that slip easily over a standard steel barricade. These can be customized to include advertisements, logos, or specific brand colors to not only make your barriers more attractive, but also serve as an extra advertising tool for your business or brand.
Barricade Covers for Marketing
If you think about it, a crowd control barrier using 25 standard steel barricades creates 212.5 feet of advertising space (or 425 feet if both sides are used). It's essentially a very long billboard positioned exactly where large masses of people will be congregating and directly at their eye level.
This is especially useful for occasions where steel barricades are being used to create waiting lines. In situations like these, crowds of people will be spending concentrated blocks of time exposed to the marketing messages directly in front of them on barricade jacket covers.
For community events operating on a tight budget, this can be a great way to prominently feature event sponsors, or even sell advertising space for additional revenue. You may have been to a sports event, community marathon, or 5K for example where the event boundaries include barricades with jacket covers displaying the logos of each sponsor.
Here are similar venues which might make use of these barricade jacket covers for marketing and advertising purposes:
Theme parks
County fairs
University sporting events
Job fairs
Marathons and other community races
Farmer's markets
Outdoor concerts
Festivals
Barricade Covers for Custom Messaging
There are other ways to take advantage of the ~400 feet of visible space created by barricades. For example, during the 2020-21 pandemic, event coordinators had the difficult challenge of promoting safe social distancing wherever large groups were gathered. This required clear and frequent messaging to remind pedestrians to maintain 6-foot distances from one another. This kind of crowd management is nearly impossible without frequent signage.
Barricade jacket covers are most commonly customized with either brand or marketing messages, or with other important messages for managing crowds. For instance, you may see barricade covers with "No Parking" or "No Entry" written on them. This helps keep crowds under control.
Barricade Covers for General Aesthetics
Not all barricade covers are printed with custom messages or branding on them. Some customers prefer solid color barricade jacket covers to cover up the industrial-looking steel barricades and make them more attractive for events like job fairs and conferences. Some of these venues are outdoor spaces where steel barricades may be the most economical and effective crowd control barrier method but where appearance is still important. 
Imagine a large corporate gathering held in a large event space or outdoor venue. It may not be practical in these settings to use retractable belt barriers or classic stanchion posts which are not well suited for uneven surfaces. These methods may also be less durable in outdoor settings or could become too expensive when large spaces must be covered with crowd control barriers.
In these cases, event planners may opt for standard steel barricades which are heavy-duty, inexpensive, and can even be weather-proof. They might also add inexpensive barricade covers to match branding colors or conceal the more industrial-looking steel barriers with something more attractive.
Barricade Jacket Cover Benefits
The fact is, because barricade jacket covers can be so easily customized with any imagery, messaging, or colors necessary, they allow for limitless aesthetic control with little additional cost. 
If you'd like to customize a barricade cover for your own steel barricades, you can begin the process by clicking here to make a purchase.
---
Share this post

---
---