The Barricade Game Changer: Barricade in a Box 2.0
Article published on Feb 22, 2023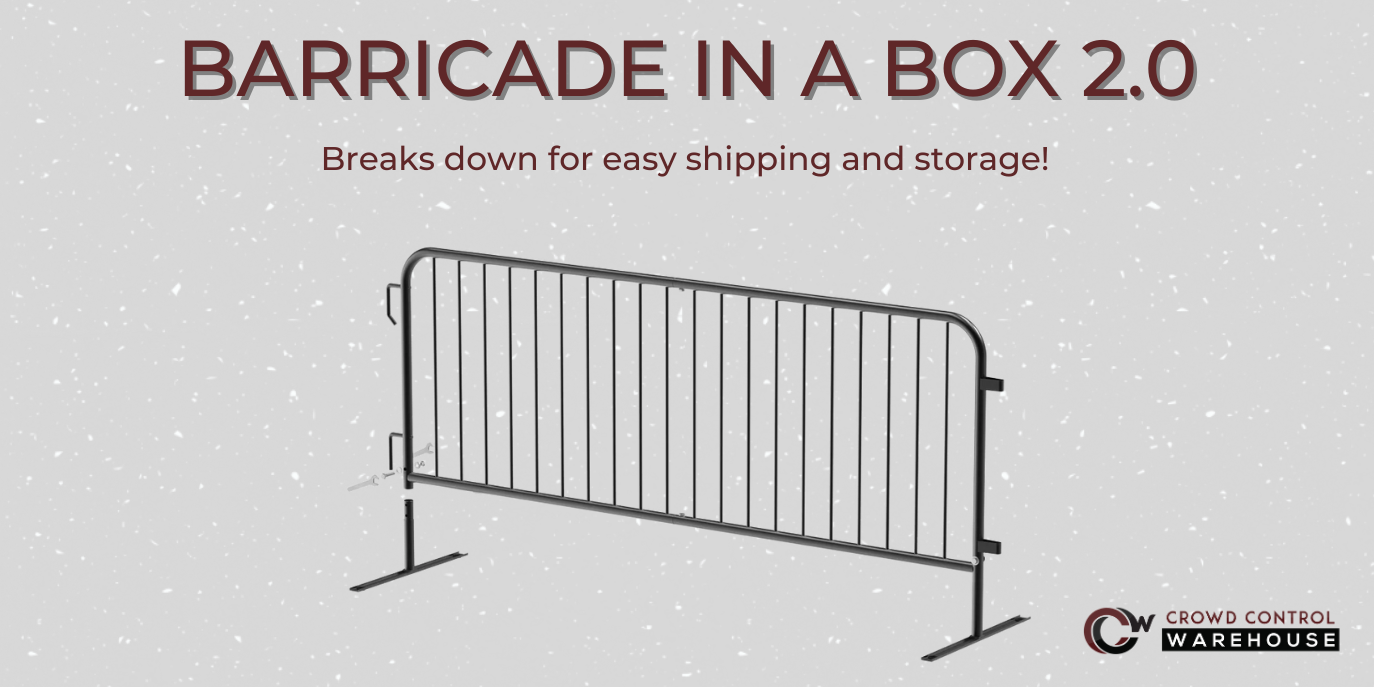 ---
Heavy-duty steel barricades have been one of the most utilized crowd control products for a long time. They are a reliable tool for blocking access to certain areas, such as concert stages, parade routes, sporting events, etc. Still, there is a new steel barricade on the market that is changing the scene of crowd control, and for some great reasons! Enter the Barricade in a Box 2.0.
What is Barricade in a Box 2.0?
Barricade in a Box 2.0 is revolutionizing the steel barricade market by offering the durability of a standard steel barricade in a much more convenient and easy-to-handle form factor. Barricade in a Box 2.0 is easily disassembled for convenient shipping, transportation, and storage while providing superior crowd control protection. This simple and efficient design helps ensure your barricade is secure for crowds of all sizes.
Features of the Barricade in a Box 2.0:
Easy assembly and disassembly:
These particular barricades are easy to put together and disassemble. They are quickly put together with two screws in the middle and one screw to secure each foot. By interlocking using a simple hooking mechanism, people are prevented from removing one barrier in a line of continuous barriers to get through. Tearing these barriers down is just as easy as putting them together, which means you'll save time and effort, especially if it's just one person transporting the barricade and setting it up.
Takes up minimal storage space:
Since the Barricade in a Box 2.0 breaks down in the middle and the feet are removable, you can store this in more compact spaces than traditional steel barricades. This is especially helpful if you're a business or facility that doesn't plan to keep them up indefinitely or only use them for specific occasions.
Manufactured for durability:
Barricade in a Box 2.0 is made from hot-dipped galvanized steel, making these barricades exceptionally durable. They are engineered to withstand the weather and hold up to long-term use, making them a great choice if you plan to keep them up or use them regularly.
Additional features/specifications:
Measures 8.5 feet long (the industry standard for crowd control) and interlocks with other barriers (also compatible with other Angry Bull Barricades) to create any desired barricade length for your event or facility
Comes equipped with removable flat feet (ideal for level surfaces to minimize tripping hazards)
Compatible with other CCW feet (such as bridge feet), which can be ordered separately
Available in hot dipped galvanized or black finishes
Ships to customers in a nice compact box and can be shipped on a standard pallet, making shipping less expensive
Great for locations without a loading dock since lift gates can be used
Can ship to any location- homes, schools, factories, etc.
Prepackaged for resale
Barricade in a Box 2.0 Video
Learn more about Barricade in a Box.
---
Share this post

---
---