Crowd Control Basics: How to Plan a Parade
Article published on Feb 09, 2023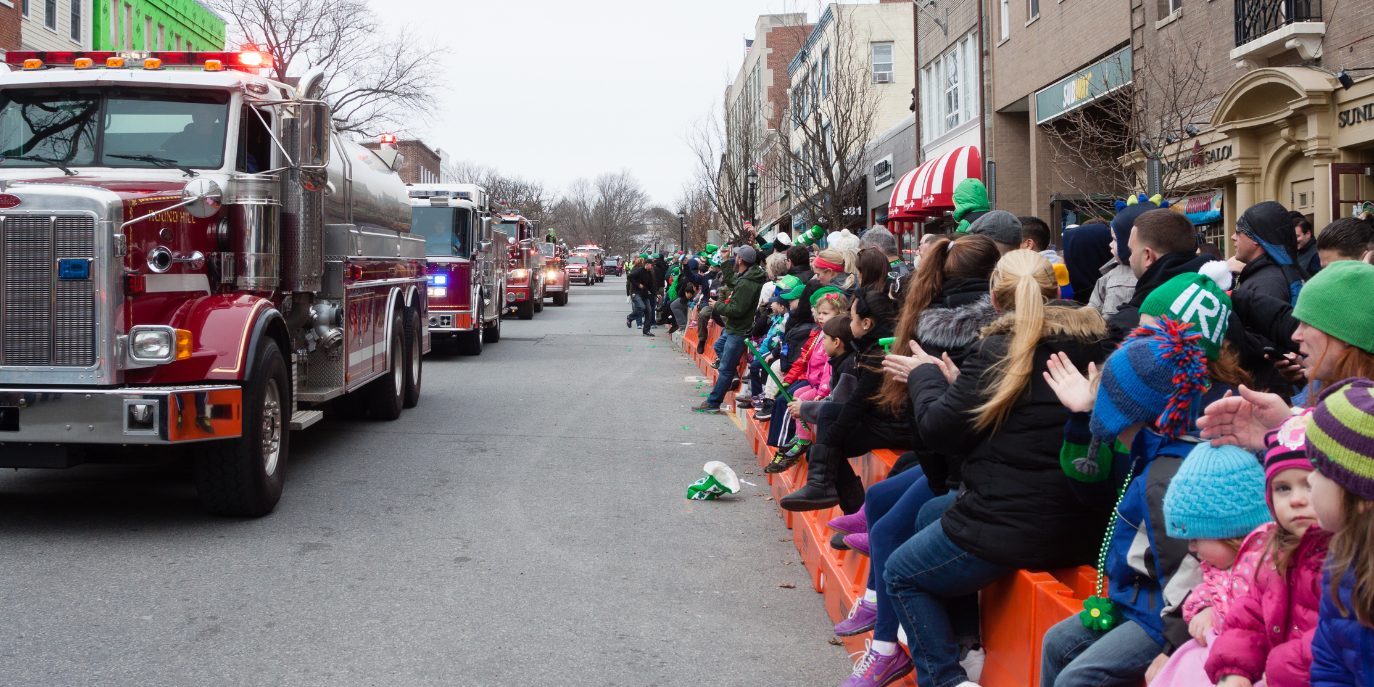 ---
Every year, hundreds of thousands of people gather for holiday fun or to enjoy community celebrations by attending local, state, or national parades. With March quickly approaching, many cities and towns are gearing up for their annual St. Patrick's Day festivities.
Every area has different traditions, and all parades can vary in attendance size. So, how do local authorities, first responders, and councils prepare to accommodate all the various factors to keep everyone safe? A lot goes into the behind-the-scenes work and planning that many of us may not realize!
What preparations go into making a fun and safe parade?
From familiarizing themselves with the proper permitting and ordinances to having regulations for vendors and having an emergency plan, there are so many things that organizers need to be accounting for when planning a public parade of any size.
Parade-related injuries occur more than we may realize. To help prevent any accidental incidents, one of the main things the safety planning committee or person in charge should focus on is having a written safety plan.
This plan should include:
The parade route
Proper access points for emergency/first responder personnel
Crowd control and security protocols
Having the parade route mapped out will help facilitate the rest of the safety procedures, such as finding the best access points for security and first responders in case of an emergency and figuring out what kind of crowd control equipment will be best suited for the event.
This is where Crowd Control Warehouse has you covered! While we may not be able to help you determine the best route for your parade or which permits to file, we CAN provide you with the best crowd control products to keep your event organized and safe.
Which crowd control products should you consider?
Crowd Control Warehouse has a large inventory of items that would help in the efforts to keep parade participants and attendees safe. Some of the best top-of-mind products for parade crowd control are traffic barriers. Traffic barriers can be used for both assisting in road closures, but they are also suitable for outlining your attendee/standing areas, especially when you are expecting a larger turnout.
Traffic Delineators
Another option for helping to maintain traffic control during a parade is with the placement of traffic delineators. CCW offers a multitude of different options, but our most popular are the standard 45 in. delineator post with base. Our delineators come with stable bases, fluorescent colors, and they are easily stackable without getting stuck together. Other delineators we carry are made with heavier materials for extra stability, and reflective sheeting for maximum visibility. Many of our delineators and cones can also be used with brightly-colored plastic chains or caution tape to create visual barriers.
Jersey Barriers
CCW offers traffic barriers of all kinds to meet all your parade needs. For example, if you want to close a portion of a public road for the parade route, our Jersey Barriers are a great option. They are easy to set up and move around, and they come in various sizes to meet your street closure needs.
Jersey barriers are available in both plastic and concrete configurations. Plastic jersey barriers can be filled with water or sand to weigh them down, whereas concrete jersey barriers are heavy enough on their own.
Metal Barricades
For larger parades that might require barriers on sidewalks or to keep parade routes clear, metal barricades are ideal. Since they interlock, they can be lined up to accommodate any length needed. They are also durable and made to withstand large crowds.
If you are in the market for a durable metal barricade with easy assembly, disassembly, and storage capabilities, the Barricade in a Box 2.0 is exactly what you are looking for. This barricade is easy to put together, it tears down quickly, and does not require a lot of storage room. This is an ideal option for parades that have a quick turnaround time from when the parade ends, and the road opens again.
If you are interested in metal barricades for your parade, but you are not sure which ones may be the most suitable, check out our Barricade Buying Guide for assistance.
Event Fencing
If you desire a more elegant look for your parade and want to stay away from the metal barricades, an alternative would be our premium portable event fencing. These are functional for crowd control, while also offering a more pleasing and eye-catching look.
VIP Red Carpet
If you are planning to add a little more pizzazz to your parade event, consider our red carpet VIP kits. Red carpet and stanchion kits create an aesthetically pleasing parade entrance for VIPs, and are used at parades such as Macy's Thanksgiving Day Parade in NYC. We offer these kit in a variety sizes and colors including red, black, green, blue, purple, pink, and more. If you don't see the color you're looking for, please contact our customer service team and they'll be happy to help you with a custom order.
Parade safety and security is important, regardless of the size or length of your event. Ensuring you have all the proper routing, permits, and crowd control equipment in place will guarantee a flawless and fun event! Remember, when purchasing parade safety products, Crowd Control Warehouse has everything you need.
Would you like some help with finding the right crowd control products for your parade? Reach out to our customer service team by sending them a message or starting a live chat (see the icon in the bottom right corner) for expert advice!
---
Share this post

---
---