The Bike Rack Buying Guide
Article published on Jun 24, 2020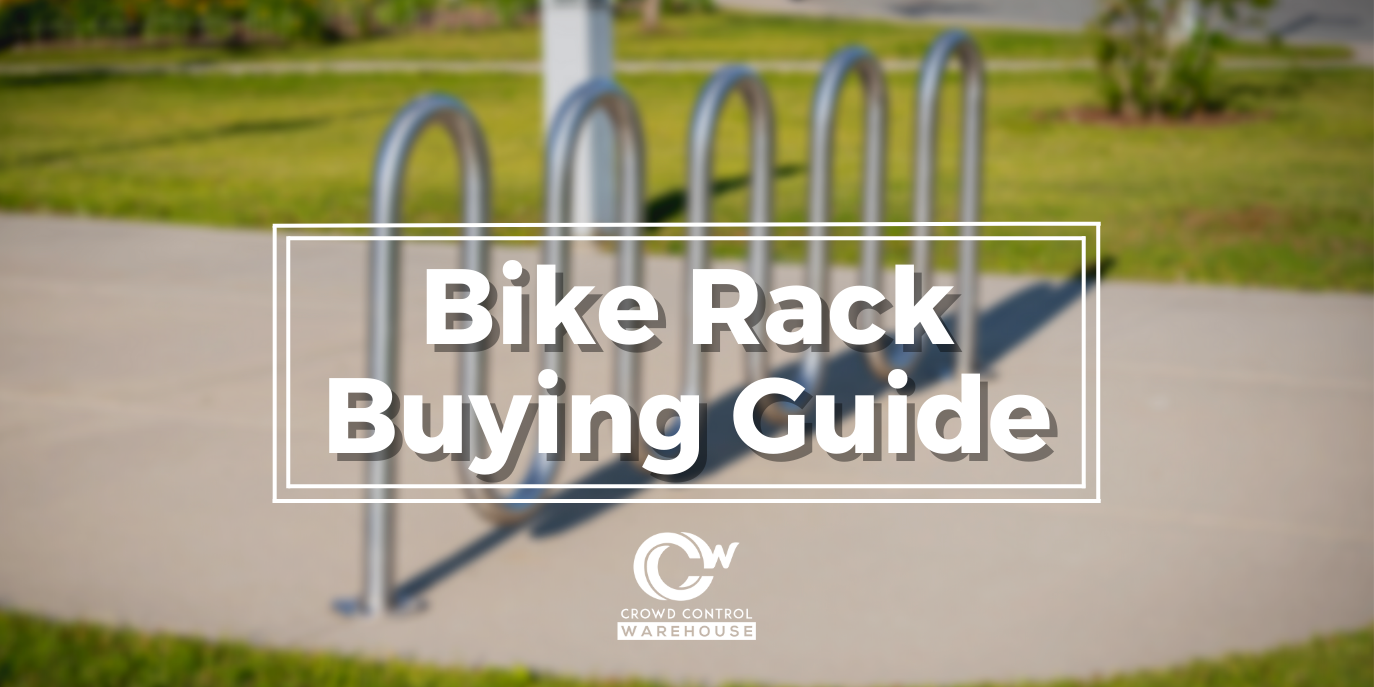 ---
Table of Contents
---
For many, bicycles are the preferred method of transportation these days, especially in larger cities where it isn't always beneficial to have a car. The constant rise in gas prices has also played a factor into some people's decisions to ditch the car and opt for a bike instead. With this in mind, it's becoming more important for facilities of all kinds to provide sturdy bicycle parking solutions.
Furthermore, each facility has different challenges to consider as they work to keep bicycles safe from theft. Apartment complexes, for instance, must assume their bike racks will get constant use, sometimes for long periods of time. This means they must focus heavily on providing the top-level of security for bike parking, which may remain stationed for days at a time. At the same time, you must be prepared to accommodate many bicycles at once.
In order to help you find the best bike rack, here are some things to consider:
Commercial Bike Rack Types: Bike racks are designed in loop style, wave style, grid style, bollard style, and coil style. Each design has different benefits.
Additional Bike Rack Features: While functionality is the main concern, the color and finish of a bike rack can often be modified to match your landscape or site plan as well as enhance weather durability.
Mounting Options: The two primary mounting options available for bike racks are surface mounting and in-ground mounting.
Use Cases: Bike racks are used to provide bicycle parking and security at facilities of every kind.
Bike Rack Types
Quick Guide to Bike Racks
| | | |
| --- | --- | --- |
| STYLE | DESCRIPTION | COMMON USES |
| Loop Style | Loop style bike racks are simple, single loop structures which individually offer minimal capacity but maximum flexibility in terms of locking position. This allows a bicyclist to lock their bicycle by its frame rather than its wheel. This provides maximum bicycle security. | Public Business Bicycle Parking: These single loop bike racks are commonly used outside of non-residential public buildings or businesses which may not need to accommodate large amounts of bicycles at a time. |
| Wave Style | Wave style bike racks include multiple loops to provide a high level of parking flexibility, as well as accommodations for a high capacity of bicycles. | Residential Bicycle Parking: Facilities with a high number of bicyclists like residential buildings or college campuses use these bike racks to fit many parked bicycles at once, while still accommodating secure frame-locking. |
| Grid Style | Grid style bike racks have smaller bars which allow for higher bicycle capacities without taking up significant amounts of space. | Small Parking Lots: These bike racks are convenient for small parking lots requiring space-efficient designs to fit many bicycles in a compact space. |
| | These simple, post-style bike racks serve as a security bollard and a bike rack. | Dual Use: These bollard-style bike racks are convenient for storefronts, sidewalks, walkways, and any other parking spot where a security bollard may be of use.  |
| Coil Style | Like wave style, coil style bike racks can accommodate high bicycle capacities while maintaining enough room for flexible locking positions, including locking against the bicycle frame. | Large Parking Lots: This style of bike rack is good for schools, universities, or apartment complexes which need to offer high security bicycle locking for a large number of bicycles. |
Loop Style 
Our loop style bike racks can be surface mounted or mounted in ground and come in a variety of colors or coating types. The most basic of this style is considered to accommodate up to 3 bicycles, but these simple structures can be organized side by side to accommodate more bicycles. The thick, steel tubing keeps bicycles secure and the broad loop design allows cyclists to arrange their bicycles in a variety of locking positions. For instance with this type of bike rack design, there is plenty of room to fit the bicycle's frame against the bike rack, keeping the bicycle more secure than locking from the wheel.
Pros:
Simple design leaves plenty of space for positioning the frame against the bike rack for the most secure locking position.
Thick steel tubing is very difficult to manipulate, leaving bicycles secure.
Cons:
This style tends to have a minimal bicycle capacity.
Wave Style 
Wave style bike racks have a wide variety of styles, many of which maintain the advantages of the loop style bike rack, (with thick steel tubing and spacious design for flexible bike positioning), but with higher bicycle capacities.
 Pros:
Options with the spacious repeated loop design leave plenty of room for positioning the frame against the bike rack for the most secure locking position. 
Options with thick steel tubing make it very difficult to manipulate, leaving bicycles secure.
High bicycle capacities.
Cons:
Grid Style
Like wave style bike racks, these grid style bike racks accommodate higher bicycle capacities. Thin bars make this a more lightweight bike rack solution, but this also limits the ways a bicycle can fit into or lock against the bike rack.
Pros:
Lightweight
High bicycle capacity
Cons:
Limited space for bicycle positioning against the frame. 
Additional Bike Rack Features
What other options do I have beyond style and capacity?
While functionality is your main concern, the bike rack's color or finish can help ensure your bike rack looks good and endures outdoor weather conditions.
| | |
| --- | --- |
| Thermoplastic Coating | High quality thermoplastic coating prevents chipping, scratching, or weather-related damage. This is a highly durable coating option, good for tough outdoor environments.  |
| Powder Coating | Powder coating is available in more than a dozen colors. This option is ideal for public  |
| Galvanized Steel | Galvanized steel is a low cost option for protecting steel, increasing durability without greatly increasing cost. |
Mounting Options
What's the difference between surface and in-ground mounting?
Surface Mounting:
Surface mounting is a simple assembly option which uses a small base to attach the bike rack to the pavement or other surface. This makes set-up very easy.
Pros:
Cons:
Shop Surface Mounted Bike Racks
In-ground Mounting:
In-ground mounting requires preparing a cavity to secure the bottom portion of the bike rack into the ground. This is slightly more complicated than surface mounting, but is also more secure.
Pros:
Cons:
More set-up preparation required 
Shop In-ground Mounted Bike Racks
Use Cases & Commercial Applications
Bike racks are increasingly necessary for every parking lot, as bicycle commuters come to expect the same accommodations provided to drivers of cars. Any facility with a parking lot must also consider providing bike locks to keep bicycles secure.
Properties In Need of Bike Parking Solutions
 Property Type
 Examples
 Educational Properties

University campuses
University dormitories
School libraries
Classroom buildings

 Community Properties

Community libraries
Recreation centers
Basketball courts
Public parks

 Commercial Properties

Retail stores
Shopping malls
Grocery stores
Restaurants
Cafes

 Residential Properties

Apartment complexes
Downtown condominiums
Hotels

 Other
We hope we've helped make your bike rack buying experience easier. If you still have questions, feel free to reach out to our friendly team of site furnishing experts.
Email us at sales@crowdcontrolwarehouse.com or give us a call at 877-885-1600.
---
Share this post

---
Tags:
Buying Guides
---