How To Create An Entry Gate In An interlocking Steel Barricade Barrier
Article published on Jun 01, 2022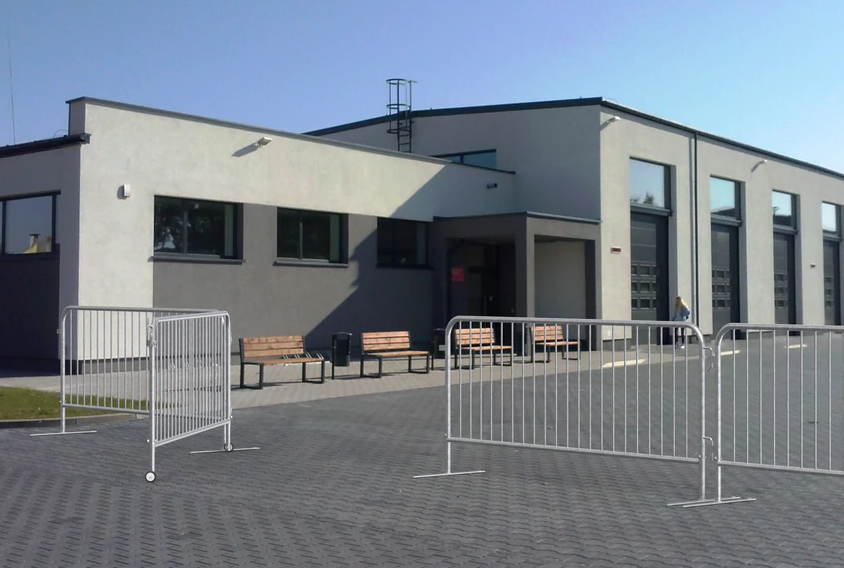 ---
Few resources eat into a project's budget as quickly as human-power, so it's always a win when installation and set up is simple enough to avoid hiring additional crew members. We've written before about how to set up standard interlocking barricades into a complete barrier. Now that Crowd Control Warehouse also sells a swinging gate barricade, let's talk about how you can add an entry gate into that interlocking barricade barriers.  
How to add an entry gate into your interlocking barricade barrier
The swinging gate is designed so that it's, in essence, simply a modified interlocking barricade section. This means it can connect into place with the same loops a standard barricade piece has to receive the neighboring barricade's hooks.
In the above image you can see the features which make this panel both easy to install and effective, but we'll outline them below as we summarize the steps for installation:
Just like an ordinary interlocking steel barricade, attach the neighboring barricade's hooks into the loops along the side of the swinging gate barricade.
Where a standard barricade's hooks would be, this barricade has a latch which can close over the neighboring barricades loops rather than fitting into them, (as shown below.)
Wheels allow this barricade section to swing open and closed. Simply lift the latch piece and swing the gate outward to open. 
Below you can see how, when closed, the gate piece functions like any other ordinary interlocking barricade piece.
For more guidance on selecting the right barricade types for your project, check out this steel barricade buying guide or contact our sales support for more. 
---
Share this post

---
---