How To Accommodate Social Distancing As Schools & Universities Reopen
Article published on Jul 28, 2020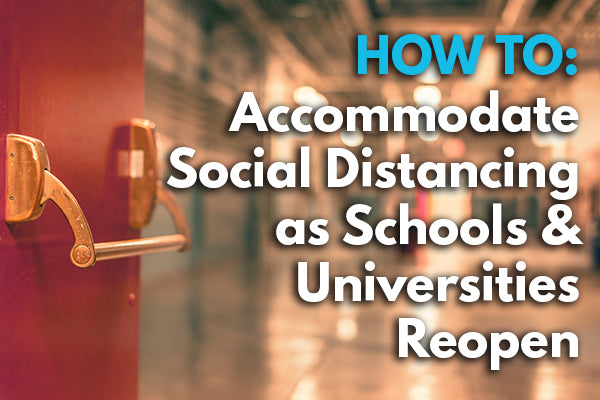 ---
As the United States reeled from the COVID-19 virus' arrival in spring of 2020, concerns grew about how schools and Universities might contribute to its spread. By Monday of the third week of March, 27 US states had made the difficult decision to close their schools for in-person classes. By the following Tuesday, all others had followed suit, closing their schools without certainty for when they could reopen. As the weeks passed and the rate of new infections increased, states gradually prohibited reopening for the remainder of the academic year, and the nation adapted to at-home video lessons.
 With the fall academic year fast approaching, States are beginning to discuss strategies for reopening their schools and universities for in-person classes. While the virus itself is still present and even growing in many US States, the discussion about the pros of cons of opening schools amidst the ongoing pandemic has evolved, and many schools are likely to reopen for in-person classes.
How Can Schools Safely Reopen This Fall?
While the CDC indicates three risk levels for reopening, (with the return of full, in-person class sizes as the highest risk option), they also outline a plethora of considerations for in-person classes amidst the COVID-19 pandemic.
In short, the CDC recommends schools take the following precautions:
Create policies for when students or teachers should stay home, and educate parents and staff on these policies. 


Teach, reinforce, and provide ample supplies for proper hand-washing of students and faculty.


Face masks should be worn by students (over the age of 2) and teachers in any setting where social distancing can't be maintained.


Avoid sharing supplies which can't easily be sanitized between uses.


Whenever safely possible, ventilate indoor air with outdoor air by leaving windows open.


Clean out the water systems which have been shut off for a prolonged period, and encourage students and staff to bring their own water.


Instead of serving meals in the cafeteria, have children bring their own meals to eat in the classroom, or serve individually plated meals in the classroom.


Use disposable food supplies.


Reorganize your facilities to promote social distancing. 
How can classrooms be set up for proper social distancing?
The CDC emphasizes the need for students and teachers to maintain 6 foot social distancing, but this can be challenging for young children, and even young adults. Teachers will have a big job enforcing social distancing procedures, but the CDC has a list of recommendations for how school facilities can be adapted to accommodate social distancing with physical barriers, plastic shields, signage, and more.
Arrange desks 6 feet from one another.


Arrange desks to face the same direction, not to face one another.


Install physical barriers where 6 foot social distancing may be difficult for children to maintain, such as cashier shields or other plastic shields for counters, or retractable belt barriers.


Use physical reminders like floor sings to assure students maintain 6 foot social distancing when waiting in line.


Close shared spaces with physical barriers, or stagger the use of these spaces to allow for proper sanitation in between uses.


Use plastic shield dividers in between bathroom sinks. 
Here are the best tools to help enforce social distancing in schools.
Following the CDC's guidelines above can be achieved with a few simple crowd control and social distancing tools. 
1) Retractable Belt Barriers For Temporary Restricted Access
Some of the CDC's suggestions include temporary restriction to allow for proper disinfection of facilities. Retractable belt barriers like these can be easily extended or retracted without needing to move the entire barrier from its place. Retractable belt barriers can also be mounted directly to the wall to keep floor spaces clear. 
2) Plastic Shields For Desks, Counters, Or Bathrooms
Plastic protective shields are especially effective in any environment where social distancing can't be easily maintained. These have seen increased use at checkout registers, but are equally useful at teacher's desks where students may want to approach to ask questions, or the desks of office staff. The CDC also recommends installing these between bathroom sinks. 
These may also be useful in classrooms without individual tables. Paired with proper distancing, these can help students remain protected even when seated at the same large table. 
3) Floor Stickers To Reinforce Social Distancing In Lines
Just as we've seen in the grocery stores and restaurants that have reopened, schools may also benefit from floor stickers which clearly indicate the distance students should maintain from one another while waiting in line. 
4) Signage To Reinforce Hygiene Practices
The CDC repeatedly emphasizes the importance of educating students and teachers alike, as well as reinforcing positive hygiene practices to slow the spread of COVID-19 when schools reopen.   Simple signage helps children remember everything from the proper 20-second length for washing their hands to keeping their hands off of their face masks. 
Keeping all of these proper procedures in mind is difficult for anyone to do, but safely reopening in-person classrooms without exacerbating viral spread depends on it. Each of the steps outlined above will be necessary for keeping both students and teachers from contracting or spreading COVID-19 to their families. 
For the most up-to-date recommendations, always make sure to visit the CDC directly.
---
Share this post

---
---