The Retractable Belt Barrier Buying Guide
Article published on Jan 19, 2023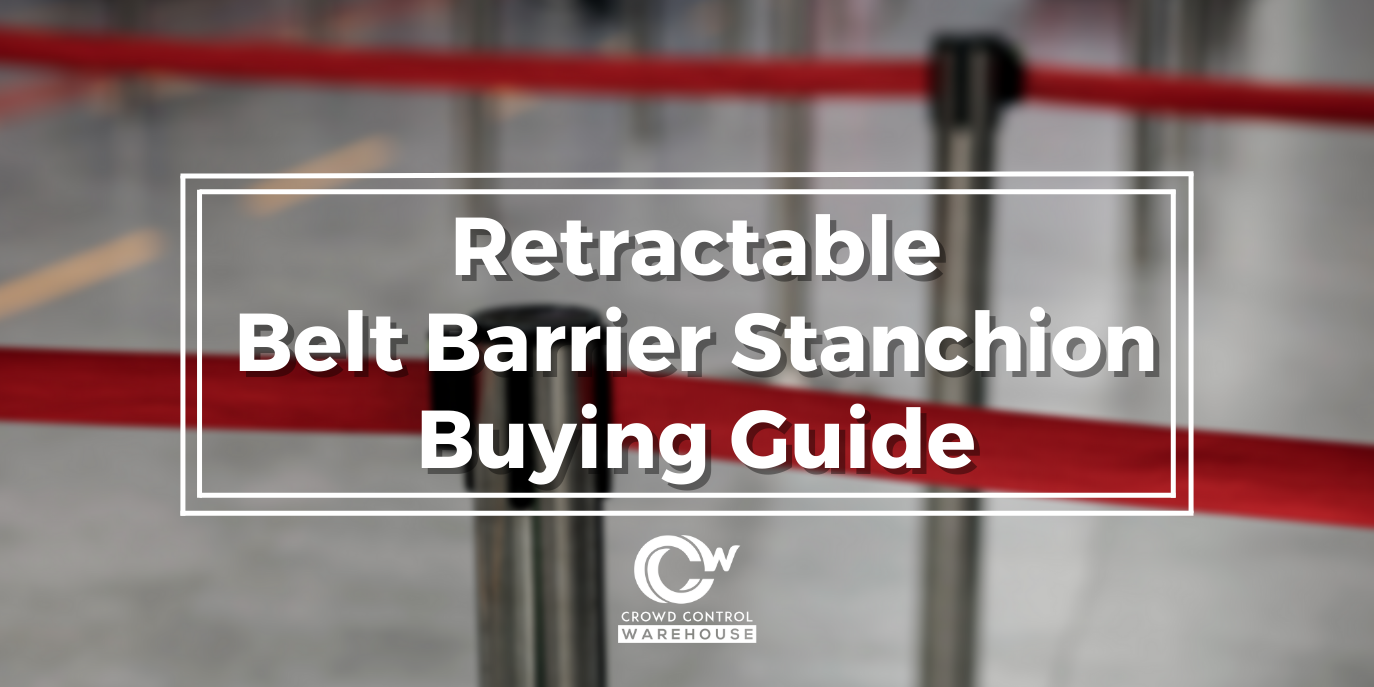 ---
Table of Contents
---
Retractable belt barrier stanchions come in a variety of options to help create a perfect solution to your specific crowd control needs. This guide will break down the differences between each type of retractable belt stanchion to help you decide which one is the best choice for your needs.
Standard retractable belt barrier stanchions
Retractable belt barrier stanchions are very versatile! Not only do they help maintain crowd control and create organized queue lines, but they can be extended and clipped into other stanchion tops, then retracted again when no longer needed. This means you can create a queue or crowd control line that meets your specific needs each time.
In addition to our regular retractable belt barrier stanchions that are good for everyday general use, there are four other types we carry for various occasions or needs.
For more information about stanchions in general, check out our stanchion buying guide.
Shop retractable belt barrier stanchions.
The four additional types of retractable belt barriers
| | | |
| --- | --- | --- |
| Type | Description | Image |
| Dual belt retractable belt barrier stanchion | These stanchions, often also referred to as "twin retractable belt barriers," have two belts to help provide a continuous barrier. This not only helps create a safer environment but also helps meet ADA requirements for a barrier to be within 27 inches of the ground or less. | |
| Safety belt barrier stanchions | Safety retractable belt barrier stanchions protect entry into work zones or hazard areas with high visibility yellow and orange posts. These are engineered for outdoor use in construction zones, or heavy use restricting access indoors, like in a warehouse or other industrial facility. All models come with custom belt options, including bright colors and warning language. The majority of our safety stanchions are weatherized for heavy traffic outdoor use. | |
| Custom-printed belt barrier stanchions | Want to enhance your marketing efforts while maintaining your crowd control efforts? Our customizable retractable belts can do just that by branding your product, displaying your messages or logo, all in a more non-traditional advertising space. | |
| Outdoor belt barrier stanchions | Our collection of outdoor stanchions are designed for weather resistance and durability, making them suitable for your outdoor crowd control needs, like construction, parking lots, and more. We offer a variety of base types, including heavy-duty rubber or cast iron, long belt lengths of 65 feet or more, and colors that provide high visibility. | |
Questions to ask when shopping for a retractable belt stanchion
Finding the right product for your needs can be challenging when you're not an expert on the product itself. Below are some common questions that we think will help guide you in finding the right product for any given situation.
Do I need a premium or economy belt stanchion?
Economy retractable belt stanchions
Does your business only see light foot traffic during the day? Do you generally leave your retractable belt stanchions in the same place throughout the day?
If you answered yes to either of those questions, economy stanchions are likely the best choice for you.
Benefits of economy stanchions
Budget-friendly
Sturdy construction
One standard, optimized base design
Premium retractable belt stanchions
If your business regularly deals with large crowds (>500 people per day) or you routinely rearrange your stanchions during the business day, premium stanchions are probably your best choice.
Benefits of Premium Stanchions
The longest possible belt lengths in the industry
Stronger, wider posts
Largest variety of belt colors and post finishes
Cast iron base weights (rather than concrete base)
Durability and longevity
Compatibility with other company's stanchions. This allows you to buy replacement parts from other manufacturers rather than only from the company you purchased your stanchions from
*Something to keep in mind when you're purchasing retractable belt barriers online: Some internationally-made retractable belt barriers aren't required to meet certain safety standards, which can lead to accidents or injuries. Our retractable belt barrier stanchions are produced with built-in safety mechanisms that slow down the nylon belt when it's retracting, rather than whipping around at high speeds. 
What type of base or floor mount should I use?
There are three categories of bases and floor mounts for retractable belt stanchions: portable bases, semi-permanent floor mount bases, and permanent bases.
How, where, and how much your stanchions will be used all factor into which type of base or mount you should buy. Below is an overview of each type of floor mount:
Portable stanchion bases
If you need to regularly rearrange your stanchions to decrease or increase the size of your queues (like at airports, museums, amusement parks, and arenas), you need stanchions with portable bases that can be repositioned and stored when they're not in use.
*NOTE: All portable stanchion options come with rubber floor protectors so you won't have to worry about scratching your floors when you move your stanchions.
The two types of portable bases are premium bases and economy bases.
Similar to premium and economy stanchions, premium bases are sturdier and have a longer lifespan than economy bases.
Premium Base Styles
Cast Iron Sloped
Cast Iron with a Roller Wheel
Recycled Rubber
Flat Low Profile Base
Dome Base
Water Fillable Base
Economy Base Styles
Semi-permanent stanchion bases
Semi-Permanent Floor Mounted Bases are ideal for businesses that occasionally rearrange their stanchion queues for events, like stadiums, or for companies that lease a building because they require limited drilling into floors. Some magnetic semi-permanent floor mounted bases require no drilling whatsoever.
There are three types of semi-permanent floor mount bases: removable/socket and cap, magnetic, and mini-socket.
Benefits of removable/socket and cap floor mounts
Posts that slide in and out of a socket opening
Covers that fill the opening in the floor when a stanchion isn't in use
Benefits of mini-socket floor mounts
The smallest footprint of any semi-permanent floor mount base. The core drilled floor socket base has a dime-sized diameter
Designed so that the post screws into the pocket with a few turns
The post base is spring loaded to absorb pressure, leaning, and contact
Benefits of magnetic floor mounts
Magnetic plates that attach to the floor with VHB tape or Epoxy to hardwood, marble, or cement floors, or permanently secured to the floor with screws
They come in multiple colors and small sizes, making them nearly invisible
A magnetic base that is strong enough to be approved for use in nuclear power facilities
Permanent stanchion bases
Permanent bases are the most sturdy stanchion base option. Keep in mind that once these are installed they are difficult to remove and the floors underneath them will require significant repairs if you remove the stanchion bases.
 Benefits of permanent bases
Stable bases designed for fixed queue layouts
Can be screwed into any floor type
Will I be using my stanchions indoors or outdoors?
Some stanchions are designed for use in outdoor environments, while others don't fare as well outside in the elements. Buying indoor stanchions for outdoor environments will end up costing you more money because of how quickly you'll need to replace that first set of stanchions.
If you plan to use your stanchions outside, consider the following options:
 Outdoor Portable Base
Weatherized base weights filled with concrete (considerable girth, minimal durability)
Cast iron base weight with base weight covers (durable, large girth)
Aluminum bases (more durable, very visually appealing, thinnest girth)
Recycled rubber bases (most durable, most bulky, least attractive)
Outdoor Post Options
PVC (least durable)
Stainless Steel (durable)
Aluminum (most durable)
 If you aren't planning to use your stanchions outside, that doesn't mean you should avoid these types of stanchion bases altogether. Rubber bases, for example, are very durable in a warehouse and industrial environments where heavy machinery is used.
How long of a belt should I buy?
To decide how long your belts should be, you first need to figure out how simple or complex you want to make your queues. Do you only need to cordon off an area or does your store require an advanced queue system? You may be tempted to purchase the lowest cost retractable belt barrier but it may not be the best solution for your application.
There are a number of reasons you shouldn't do this.
You will need to buy a massive number of stanchion posts to cover the length/path of your queue, resulting in your spending more money overall.
You will cost your employees valuable time setting up the additional stanchions when they could be doing more valuable work projects.
The more stanchion posts you buy, the higher your shipping costs will be, and in addition, you'll need additional trucks, storage carts, and closets/storage facilities for all of your extra stanchions.
 Standard 2" Belt Lengths
5 Ft, 8.5 Ft, 10 Ft, 11 Ft, 13 Ft, 15 Ft, 16 Ft, 30 Ft, 35 Ft
Extra Wide 3" Belt Lengths
*NOTE: Retractable belts should NEVER be fully extended. Always leave at least 6" in the cassette when pulling out your stanchions, otherwise you risk damaging the cassette mechanism.
Want to explore a wall-mounted option?
Learn more about wall-mounted retractable belt barriers.
No matter your specific crowd control needs, CCW has retractable belt barrier stanchions to do the job! Please reach out to our customer service department with any additional questions or help needed throughout your buying process!
---
Share this post

---
Tags:

Buying Guides, Resource Center
---