The Stanchion Buying Guide
Article published on May 18, 2018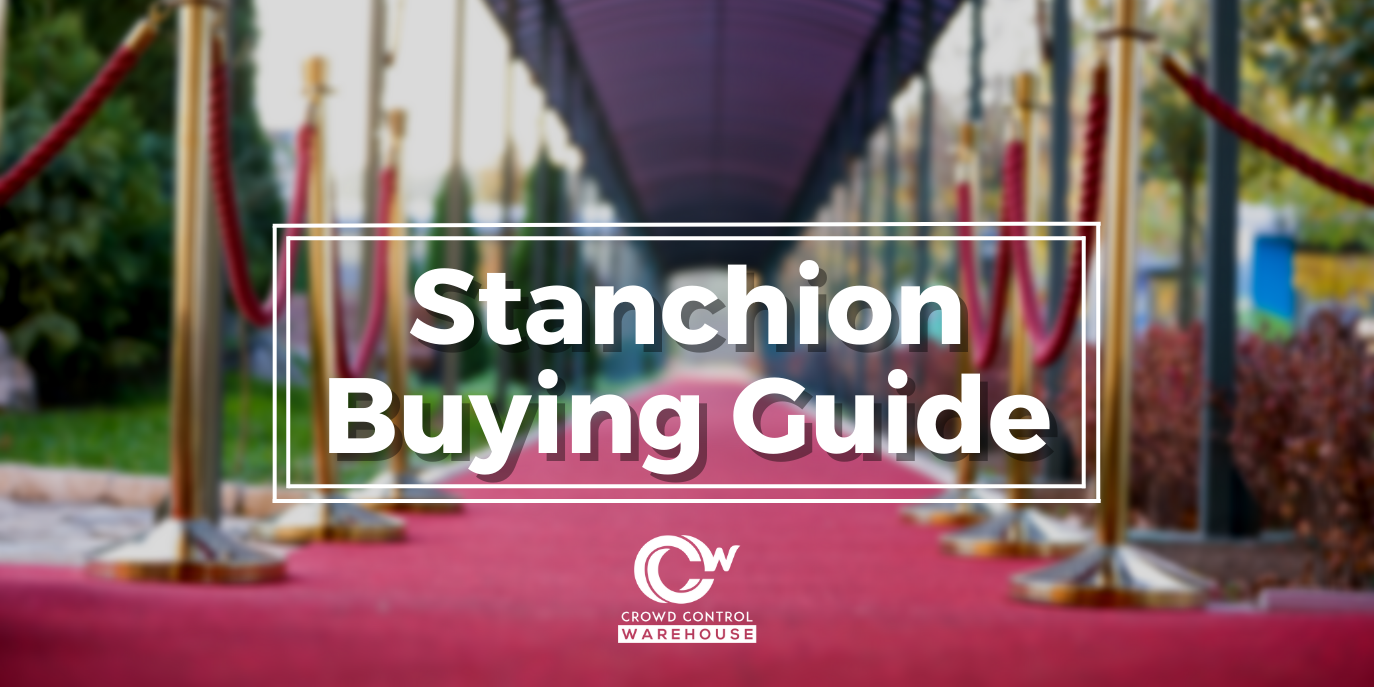 ---
Table of Contents
---
Stanchion Definitions & Types of Stanchions
Any savvy owner knows that even the seemingly small decisions can have a profound impact on their business.
Everything from finding the right employees to picking out a new logo and, yes, purchasing the right type of stanchion can have financial implications for your business.
That's why we put together a comprehensive stanchion buying guide with all you need to know before making a purchase.
Download the guide or keep reading below for all of the details!
What is a stanchion?
Wondering what a "stanchion" is? Simply put, it's a helpful crowd control tool to guide the flow of foot traffic without changing the actual infrastructure of a building. Stanchions are defined as sturdy upright fixtures that provide support for some other object. They can be permanent features, or ones that can be packed up and moved based on your crowd control scenarios.
Stanchions guide customers and patrons, telling them where to queue and not to queue in check-out and ticket lines. During the holiday sale season and at large arenas or stadiums, stanchions also serve as critical safety devices because they keep customers organized in an orderly, efficient way that decreases the likelihood of crowd surges or crushes.
Why you should consider using a stanchion
Stanchions are so common because business owners have noticed that organizing crowds can actually increase sales. Customers waiting in an organized line can scroll on their phones or consider purchasing one of the "add-on" items you've laid out along your queues.
Studies show that merchandised items in a queue can provide a 35 - 50% increase in sales. Studies show that a lack of stanchions and stanchion-created queues can decrease sales by up to 60%. Why? Because a confused customer is a customer who decides not to make a purchase.
For advice on how to layout your stanchion queue and set up merchandising panels, read our posts on How to Form a Line and How to Set Up Merchandising Panels.
Here at Crowd Control Warehouse, we get calls every day from business owners who know that purchasing stanchions would improve their business but need a little help navigating all the options to find the right fit for their needs. Let's break down the different kinds of stanchions first.
The 4 Basic Types of Stanchions
1) Retractable Belt Stanchions & Barriers
According to the experts (us), the top contender in the stanchion world is the Retractable Belt Barrier Stanchion.
Retractable belt barriers, both wall-mounted and free-standing stanchion varieties, are designed to be flexible and handle many different types of crowds. They can be customized with your brand's logo or message, come in a variety of finishes and colors, and adjust to fit almost any sized area.
Moreover, retractable belt barriers are durable, hold up to a high volume of foot traffic, are offered in permanent wall-fixed models or standing options, and have replaceable parts that save your business money. Instead of replacing the entire stanchion when it breaks, you can replace only the broken piece. Retractable belt barrier stanchions also use an internal spring mechanism to release and retract a nylon belt that stores itself in a canister attached to the post or wall piece.
Check out our retractable belt barrier buying guide for a more in-depth look at the different types of retractable belt stanchions.
Shop retractable belt stanchions.
2) Classic Post and Rope Stanchions
If you've ever watched coverage of a red carpet event, visited a movie theater, or been to an art museum, you've probably encountered a Post and Rope Stanchion.
Post and rope stanchions look exactly as their name implies: they have a stanchion (post) with a rope attached to it. When several posts are strung together with ropes, they create a crowd control barrier.
Typically, these posts sit on a heavy circular base that stabilizes the stanchion, and feature a metal ring near the top or attaching ropes.
Depending on your business, there are multiple different styles of post and rope stanchion to choose from. Classic stanchion posts come in metal finishes (silver, brass, gold, or chrome), and offer a number of top styles, including urn, ball, flat tops, or a top that leaves space for a sign frame.
Classic stanchion post ropes also come in a variety of materials: naugahyde, velvet, or twisted polypropylene.
If you're aiming for a traditional, classy look, a chrome finished stanchion with a ball top, and red velvet ropes will give your business an old-time Hollywood appeal.
Classic stanchion posts are available in five different finishes: powder coated black, polished stainless steel, satin stainless steel, polished brass, and satin brass.
Shop classic post and rope stanchions.
3) Plastic Stanchions for Ropes or Chains

Plastic stanchions are a great option for businesses on a tight budget or that are looking for a weather-friendly option. This type of stanchion post is almost identical to classic stanchion posts with a couple of key exceptions.
First, rather than a ring at the top, plastic stanchion posts have a C-hook on both sides to allow for attaching plastic chains. As their name implies, plastic stanchion posts are made of plastic rather than metal, making them lightweight and immune to most types of weather damage. Additionally, plastic stanchion posts can be weighted with sand, gravel, or water for added stability.
Because they're so durable, plastic stanchion posts and chains are great options for outdoor venues like parking lots, amusement parks, street festivals, or trade shows.
4) Safety Stanchions
Safety stanchions are designed and made in bright safety colors, like orange or yellow, and often come with attachments for safety signs, warning others of the danger in the area. These stanchions are not only convenient solutions for crowd control, but they also help reduce harm and risk in dangerous conditions and are ideal for daily use in retail or industrial settings.
Shop yellow safety stanchions.
Want to learn more about stanchions? Read our posts on Forming a Line and Crowd Control Basics for Retail Businesses.
---
Share this post

---
Tags:

Buying Guides, Resource Center
---