Jersey Barrier Buying Guide
Article published on Mar 22, 2023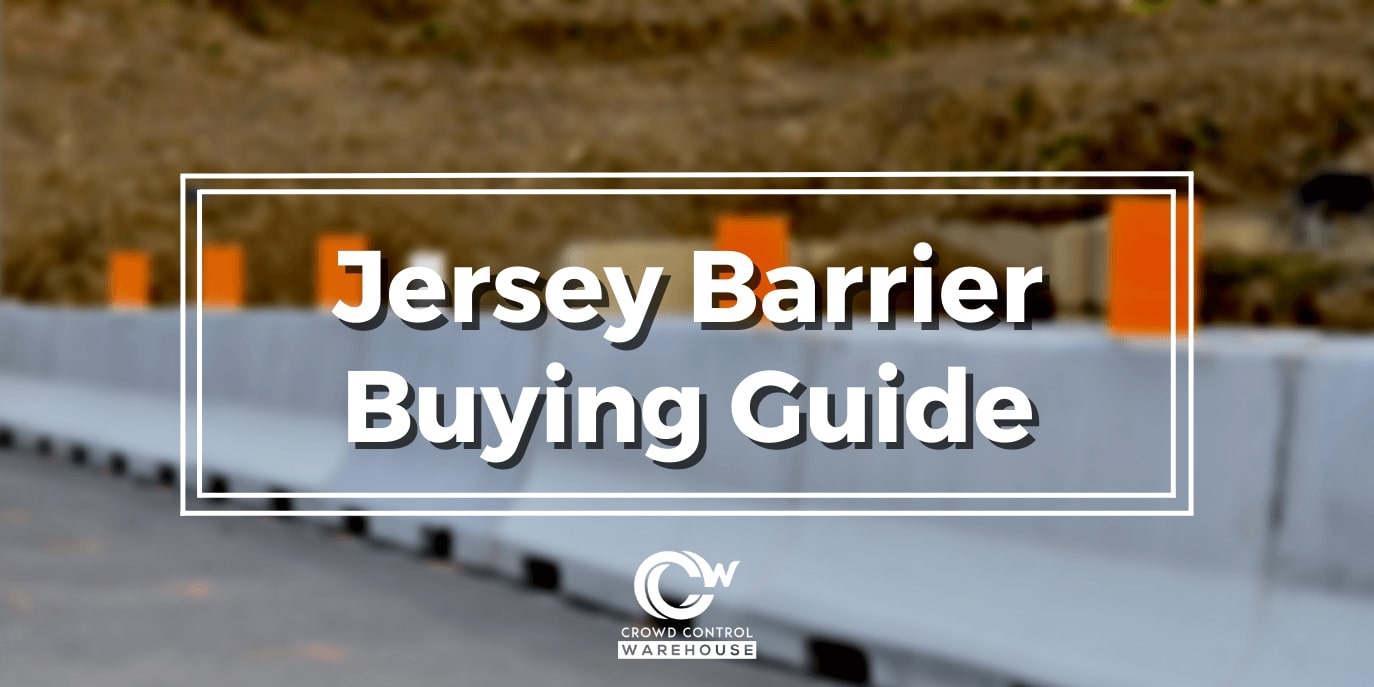 ---
Table of contents
A Jersey barrier, often referred to as a Jersey wall, K-rail, line divider, or Jersey curb, is a highly utilized type of barrier for traffic and perimeter control. In fact, you see them almost any time you hit the open road or attend a large-crowd event.
The history of Jersey barriers
The Jersey barrier got its name in the 1950s when they were first installed along a dangerous portion of US-22 in New Jersey. The first Jersey barrier was only 18 inches high, which in comparison to the Jersey barriers produced today, is quite small. After some trial and error on finding the right size to help maintain road safety and prevent head-on collisions, it was determined that barriers 32 inches high with a base of 24 inches were the best option to meet all Federal safety standards.
In the 1960s, both California and New Jersey conducted studies and crash tests of the efficacy of Jersey barriers, and it was determined that they were not only low-maintenance but also very efficient at helping to prevent collisions. From there, the popularity of Jersey barriers became widespread across the United States.
Different types of Jersey barriers
Jersey Barriers come in a variety of options, and knowing which type and material makeup is best suited for your specific needs will help make the purchasing experience a lot faster and easier.
Plastic water/sand-filled Jersey barriers
Another great option for Jersey barriers is our structurally-sound fillable Jersey barriers. While these aren't the best fit for busy dangerous highways, these plastic modular barriers are commonly used along traffic ways and roadwork sites to direct and contain the flow of traffic.
Plastic Jersey barriers are also perfect for several other situations, such as creating barricades for parking, adding extra barricade safety to construction zones, or setting up perimeters to assist with the flow of pedestrian traffic.
These barriers can be filled with either sand or water to add weight for extra stability. Many of our plastic Jersey barriers are also compatible with fencing options to add extra privacy and security to your work site.
Our plastic Jersey barriers offer more site protection than other lighter crowd control alternatives while still providing easy portability. The plastic barriers are much lighter than their concrete counterparts, which makes it easy to move them into position or storage. Once in position, simply fill the plastic Jersey barrier with sand or water to keep it in place.
Our plastic Jersey barriers are available in several high-visibility colors and feature add-on options such as solar-powered lights and reflective tape.
Pros of plastic jersey barriers:
Easy to handle/position due to lighter weight when not filled with sand or water
Made with impact-resistant materials
More affordable than concrete jersey barriers
Available in many different colors, shapes and sizes
Many accessories available (such as chain link fencing)
UV and long-term fade resistant
Cons of plastic jersey barriers:
Not as sturdy nor durable as concrete jersey barriers
Concrete Jersey barriers
Concrete Jersey barriers
can be used in a number of ways. Most commonly, they are used on stretches of highway to create an ongoing barrier between two sides of the road to prevent head-on collisions.
Another common use for these barriers is in construction areas. They are often installed between the construction zone and the road to help keep construction workers safe from surrounding traffic.
These heavy barriers are made from concrete and are ideal for setting up a perimeter or restricting access to a certain area. For example, they can be set up to control the flow of pedestrians at a large-crowd event or in a big city in areas undergoing construction. They can also be set up around potentially dangerous objects such as large propane tanks, wellheads, or gas meters.
At Crowd Control Warehouse, we offer a variety of concrete barriers, including plain concrete Jersey barriers, curved concrete Jersey barriers, cross-pipe concrete traffic barriers, L-shaped concrete barriers, and recessed wall concrete Jersey barriers, which offer a more aesthetically pleasing look.
Pros of concrete jersey barriers:
Offers maximum protection for workers and the public
Extremely durable
Low maintenance
Available in a wide range of sizes, color, and finishes
Minimized vehicle damage in the event of a collision
Forklift slots for easy handling
Cons of concrete jersey barriers:
More expensive than plastic Jersey barriers
Heavier and more difficult to transport than plastic Jersey barriers
These long-lasting barriers are highly durable, low maintenance, and can withstand all kinds of weathering over extended periods of time. Our concrete Jersey Barriers also feature forklift slots for easy moving and transportation. Our concrete barriers are available in multiple sizes, colors, and finishes.
Jersey barriers are a great crowd-control option in several different situations. No matter your need for Jersey barriers, Crowd Control Warehouse has the products you need to help maintain safety.
For more information on some of our other crowd control products, please check out our other comprehensive buying guides:
---
Share this post

---
---