Macy's Thanksgiving Day Parade: A Crowd Control Case Study
Article published on Nov 17, 2022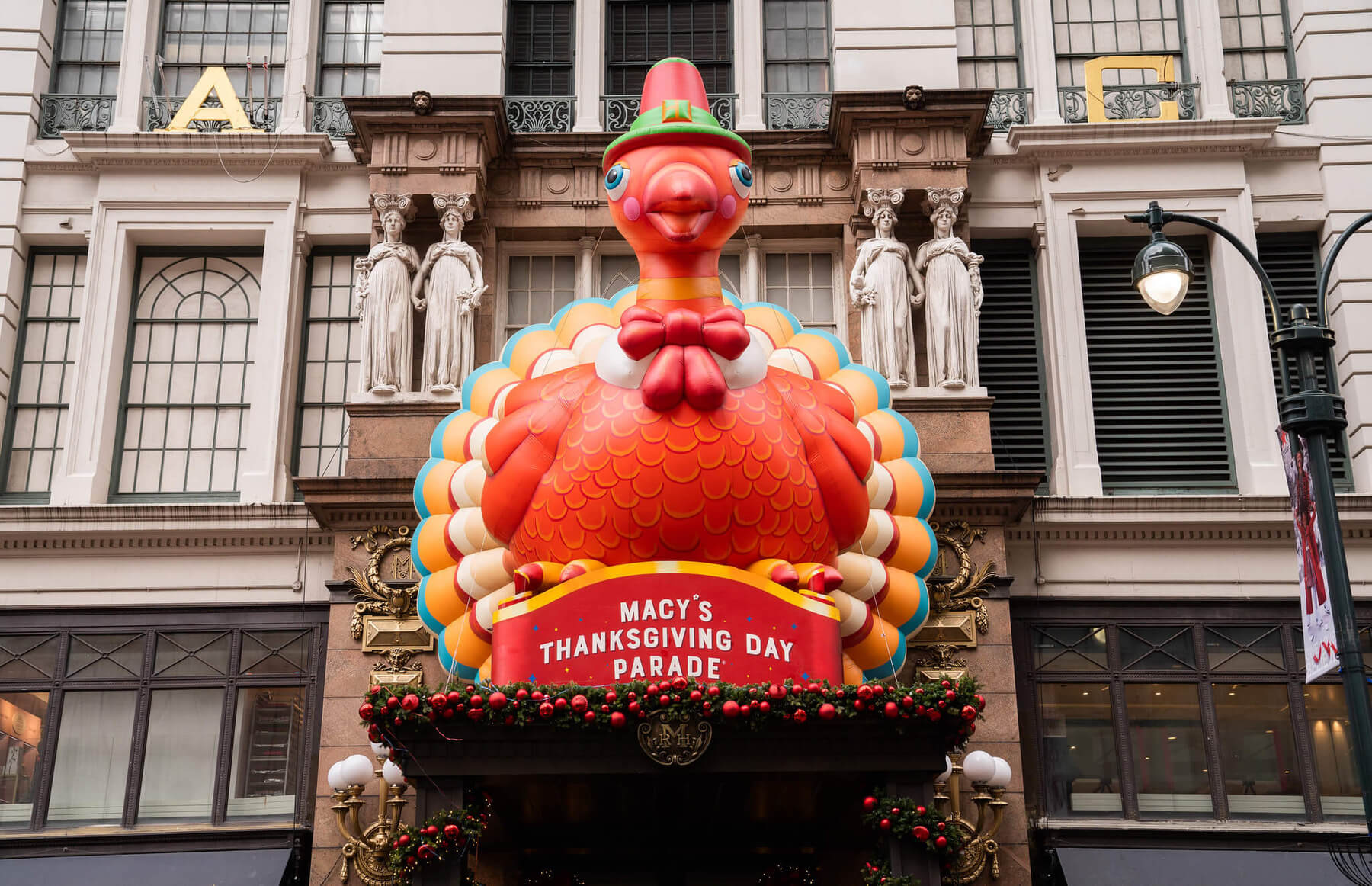 ---
"Macy's Thanksgiving Day Parade Tom The Turkey 34th Street Store" by Anthony Quintano is licensed under CC BY 2.0.
Almost 100 years ago in 1924, Macy's flagship store and headquarters in Manhattan put on a parade to crown Santa Clause "King of the Kiddies" and celebrate the coming of Christmas. With a crowd of 250,000 spectators, this "Christmas" parade was considered a huge success. By 1933 the parade had only grown in popularity, seeing a crowd of 1 million people, and in 1947 the movie "Miracle on 34th Street" secured the parade's notoriety. Television broadcasting for the popular event began the following year.

Somewhere along the way, this massively-attended parade became the "Thanksgiving" parade we know and love today. With recent attendance in the range of 2.5 million people, the annual Macy's Thanksgiving Day Parade is one of the busiest crowd control events of the year. It requires an immense amount of planning to keep pedestrian spectators safe and the parade moving in an orderly fashion.
What does crowd control look like at Macy's Thanksgiving Day Parade?
thing that's for certain is that any time millions of spectators are gathered in the street, it's particularly important for pedestrians to be protected from vehicle and event traffic with a sturdy barrier such as steel barricades.

The Macy's Thanksgiving Day Parade requires a variety of pedestrian safety measures, some of them more extreme than others, in order to ensure that the biggest parade of the year goes off without a hitch. Here's a look at some of the safety measures in place.
"Macy's Thanksgiving Day Parade 2009" by karmakazesal is licensed under CC BY 2.0.
1) ~6 miles of steel barricades: The parade route, nearly 3 miles long, is typically lined with standard metal barricades on either side (as pictured above). These barriers make sure that pedestrians stay out of the parade path without impeding their ability to see the parade.
2) Red carpet and classic stanchions: While most of the safety measures utilized at the Macy's Thanksgiving Parade are extremely practical, the Macy's store itself optimizes its barrier strategy for aesthetics as well. For instance, the store often rolls out a red carpet with classic post and rope stanchions. This helps ensure the televised ribbon-cutting tradition (in place since 1994) looks great on camera without compromising crowd management.
3) 360,000 pounds of concrete barriers: In the crowd control industry, we often think of jersey barricades when we hear about "concrete barriers." However, the barriers in use at the Macy's Thanksgiving Day Parade are not exactly the same as those you'll see on the road.
Instead of utilizing an A shape that redirects vehicles in motion along the highway, these concrete barriers have a simple block shape with the sole purpose of stopping vehicles and preventing accidents along the parade route. These barriers also help make it clear to ordinary drivers where traffic ways end and pedestrian zones begin.
"Mack TerraPro (NYC Department of Sanitation)" by Jason Lawrence is licensed under CC BY 2.0.
4) 81 sand-filled sanitization trucks: One of the more unusual safety measures in use for this event, it's become more and more common for the Macy's Thanksgiving Day Parade to bring in sand-filled sanitization trucks to block each vehicle access points along the 3-mile parade route.
5) Thousands of police officers: Of course, a big part of the crowd safety strategy relies on simple human attention. Thousands of police officers, some in plain clothes and others in uniform, monitor the parade route and the general area.
With 2021 being the official return to normal procedures after a crowd-less pandemic parade, 2022's event could bring even more than the 2.5 million spectators seen in 2021. This means New Yorkers will see sand trucks, concrete barriers, and steel barricades lining the streets once again as balloons of beloved characters and icons fill the sky above.
---
Share this post

---
---