What are velvet rope stanchions used for? VIP post and rope stanchion features and uses.
Article published on May 27, 2021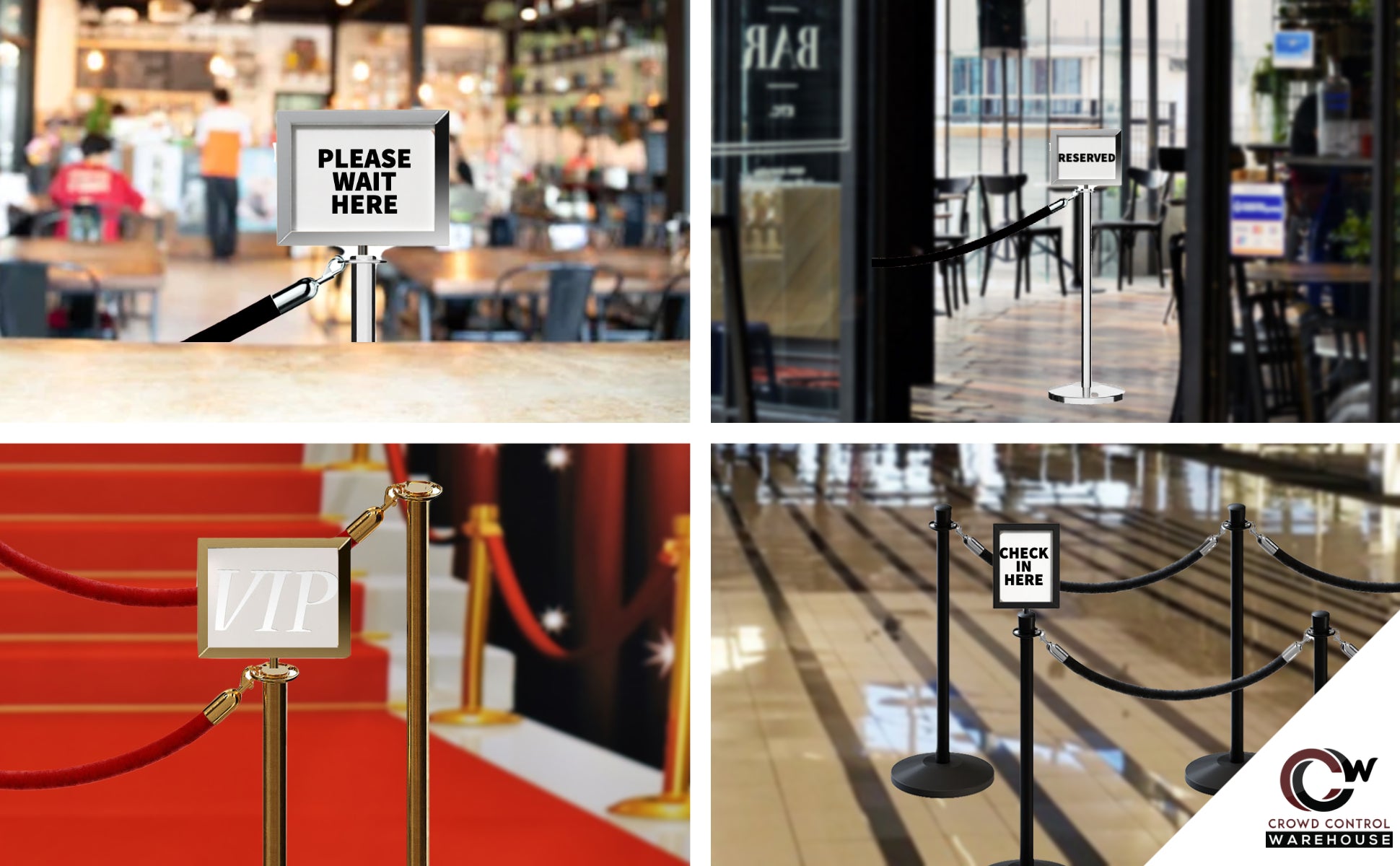 ---
Retractable belt barrier stanchions may be the most common crowd control solution for shopping malls, bus stations, and airports, but there are many event venues where these simple crowd control stanchions aren't as suitable. Take museums for example, which go to great lengths to create beautiful public spaces spending an average of  $771.69 per square foot. In venues like these, velvet rope stanchion barriers are much more elegant and provide crowd control without interrupting meticulous interior design plans.
While VIP post and rope stanchions may be designed with aesthetics in mind, it's not to say that they're not highly effective tools for crowd control as well. 
VIP post and rope stanchions are both attractive and effective: 
Beautiful as they are, historical public sites like these get an impressively high volume of foot traffic. New York City's Metropolitan Museum of Art for example received over 7 million visitors in 2019. This means interior designers and site planners must consider both priorities of safety and beauty at the same time.
Here are some of the features of classic post and rope stanchions which help make them suitable for elegant spaces:
Finishes designed to cooperate with existing fixtures:

Classic stanchion posts

 

are typically available in black, silver, or brass finishes to help them blend in and cooperate with other existing fixtures within an interior design. Just as door handles may be available in polished or satin textures, these VIP stanchion posts tend to follow the same conventions. This way, the interior design is cohesive.


Finial top designs:

These stanchion posts have simple loops for a velvet rope to clip into place at the top of the post. Often

 

this area is decorated with a finial top like those seen above. The cylindrical "crown top" style is perhaps the most common of these. The other styles shown here are "ball top" and "flat top".  


Velvet ropes:

Classic post and rope stanchions use either velvet ropes, or ropes made to look like velvet. In either case, they're designed with firm cotton or foam cores which help them drape in an even arc. The snap end pieces which allow them to clip into place at the top of a stanchion post usually match the finish of the post itself. Again, this keeps the interior design cohesive.
Here are some of the features of classic post and rope stanchions which help make them effective crowd control tools:
Post and rope stanchion kits create a continuous velvet rope barrier:

While simple in structure, classic posts and ropes are designed to easily create ticketing or waiting lines like the one seen above. The loop at the top of the stanchion post allows ropes to be clipped into place from any side. The post bases are unobtrusive just like the bases of standard retractable belt barriers, and can even be fixed to the floor to eliminate tripping hazards all-together. 


Classic stanchion post sign toppers:

As discussed above, even elegant venues like museums and libraries can have complicated crowd control puzzles to solve, and there are times when navigational or instructional signage may be needed. Sign toppers can be included in stanchion post and rope kits to efficiently allow stanchion posts to double as sign posts. This can help label line entrances for example.
Classic post and rope stanchion kits are often available with all the elements needed for a full rope barrier. These can include all of the components mentioned above, stanchion posts, velvet ropes, and sign toppers. For more information about the ready-to-use velvet rope stanchion kits available for sale, contact our sales team at sales@crowdcontrolwarehouse.com 
---
Share this post

---
---