Complete Guide to Portable Crowd Control Barriers
Article published on May 31, 2023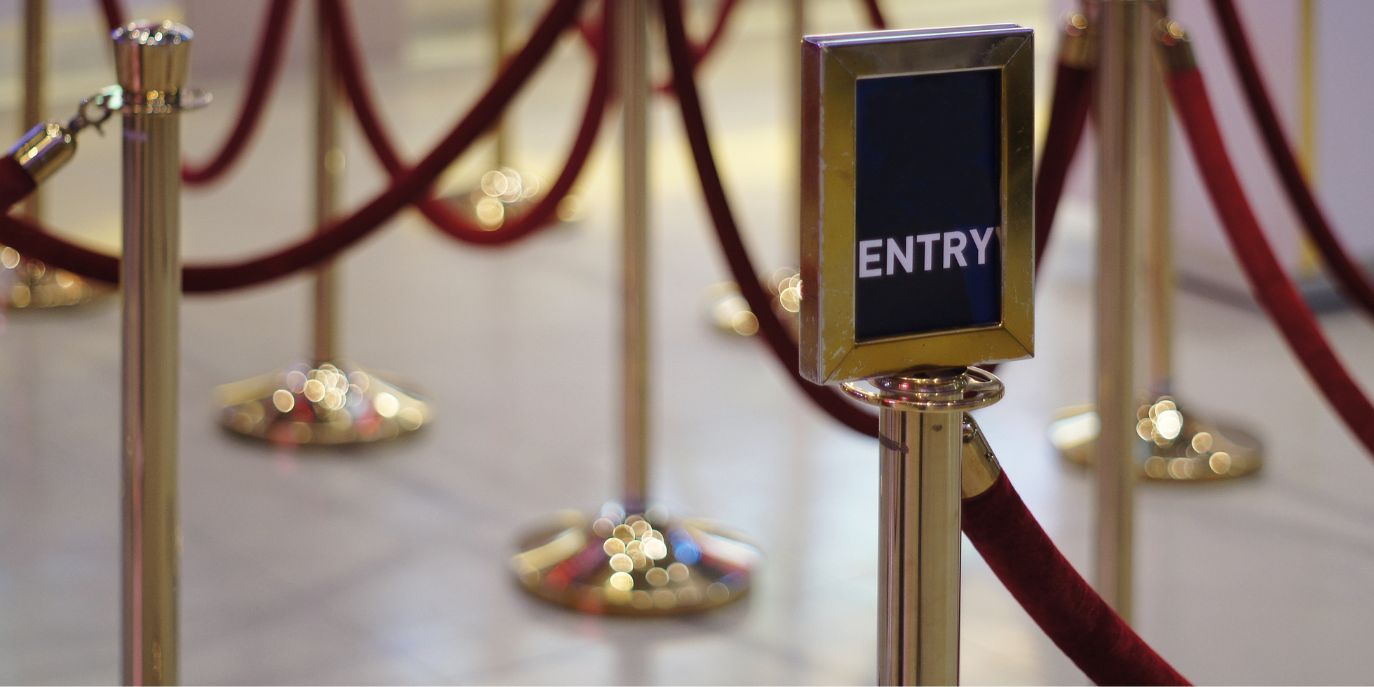 ---
Considering crowd control measures is a critical step in planning an event of any size. Each event is unique, so your crowd control needs will change depending on the specifics of the gathering, like anticipated attendee size, venue location, etc.
There are many options for crowd control equipment; some have the added benefit of being portable and easy to set up and take down. Let's explore portable crowd control equipment and why they are the best choice for specific settings.
Stanchions are a great crowd-organizing tool and can be helpful in several settings. Stanchions usually include a series of posts and ropes to create a continuous line, making them ideal for events or venues that require organized queues.
We design our classic stanchions and ropes to maintain line formation and foot traffic while offering an aesthetically pleasing look. This gives you the security you need while keeping your event's aesthetics.
Need specific colors or rope lengths? No problem! Our stanchion ropes are available in various colors and materials, not just velvet. They also come in a variety of lengths to accommodate different spacing preferences.
Classic stanchion posts and ropes are also lightweight and easy to move around and store with our stanchion storage carts. Another perk of these specific products is the ability to create queue lines of any kind: straight lines, winding lines, double lines, etc. They can also be formatted in a circle, creating a barrier between the crowd and something on display.
This stanchion type is best suited for venues such as museums, movie theaters, art displays, snack areas, etc.
Much like classic stanchions, our retractable belt barrier stanchions provide many benefits for organizing lines.
Rather than hanging ropes, these stanchions have built-in cassettes at the top that contain a retractable belt. The belt is designed like a seat belt in your car and can extend and retract as needed. This stanchion type is commonly used for retail line formation, as the belt conveniently stretches or retracts to accommodate custom lengths and line barriers. These belts can then clip into place along the top of the neighboring stanchion post, creating a continuous barrier.
Retractable belt stanchions are also lightweight, making them the perfect option for busy areas with heavy foot traffic and waiting lines or queues. They can be adjusted and set back up in a breeze, which is great if you only need them for specific events or during certain peak busy times.
These types of portable crowd control equipment are used in many industries and settings, but some common examples include:
Retail stores and malls
Museums
Schools
Airports
Libraries
Public facilities
At Crowd Control Warehouse, we offer a variety of different retractable belt barrier stanchions, like safety belt barrier stanchions, custom printed retractable belt barrier stanchions, dual belt stanchions, and outdoor crowd control stanchions, to meet all of your safety needs.
Steel barricades are one of the most utilized crowd control tools out there and for a good reason. They are the perfect solution for blocking off restricted areas and providing visual guidance for event attendees. Often referred to as bike rack barricades, this barrier design has been a staple in crowd control for decades. 
Interlocking steel barricades are portable and can easily be set up and taken down in minutes. Thanks to their interlocking design, you can connect as many as you need to create a continuous barrier just the right size for your event. If you want to make it even easier to get your barricades in position, our roller feet for steel barricades make it a breeze.
When it comes to storing and transporting steel barricades, we recommend investing in a barricade storage cart. Our barricade storage carts can carry a maximum of 30 steel barricades, making your event set up and tear down even easier and quicker. Compared to more traditional options, these carts will save you time and the cost of labor hours associated with moving each barricade individually.
Our Barricade In A Box 2.0 is another great steel barricade option. These are the number one choice for portable barricade crowd control because they are lightweight, easy to assemble and tear down, and delivered in a nice compact box. Despite being lightweight, these metal barricades are durable and made to withstand varying weather conditions and large crowds.
Steel barricades are also highly durable, making them great for sporting events, parades, concerts, and anywhere else you may need a sturdy crowd control barrier. We also offer a variety of options and colors to meet all your safety and branding needs. For a custom look, check out our barricade jacket covers, which can be printed with your custom text, colors, and logo!
Crowd control needs can vary depending on the type and size of your event, so evaluating your crowd control needs is a must during your planning process. Crowd Control Warehouse is your one-stop shop for portable crowd control equipment. No matter your venue or size, we have everything to ensure your event is a huge success.
Need some help finding crowd control solutions? Contact our sales team, or check out some of our helpful buying guides:
---
Share this post

---
---