Bollard Buying Guide
Article published on Aug 03, 2023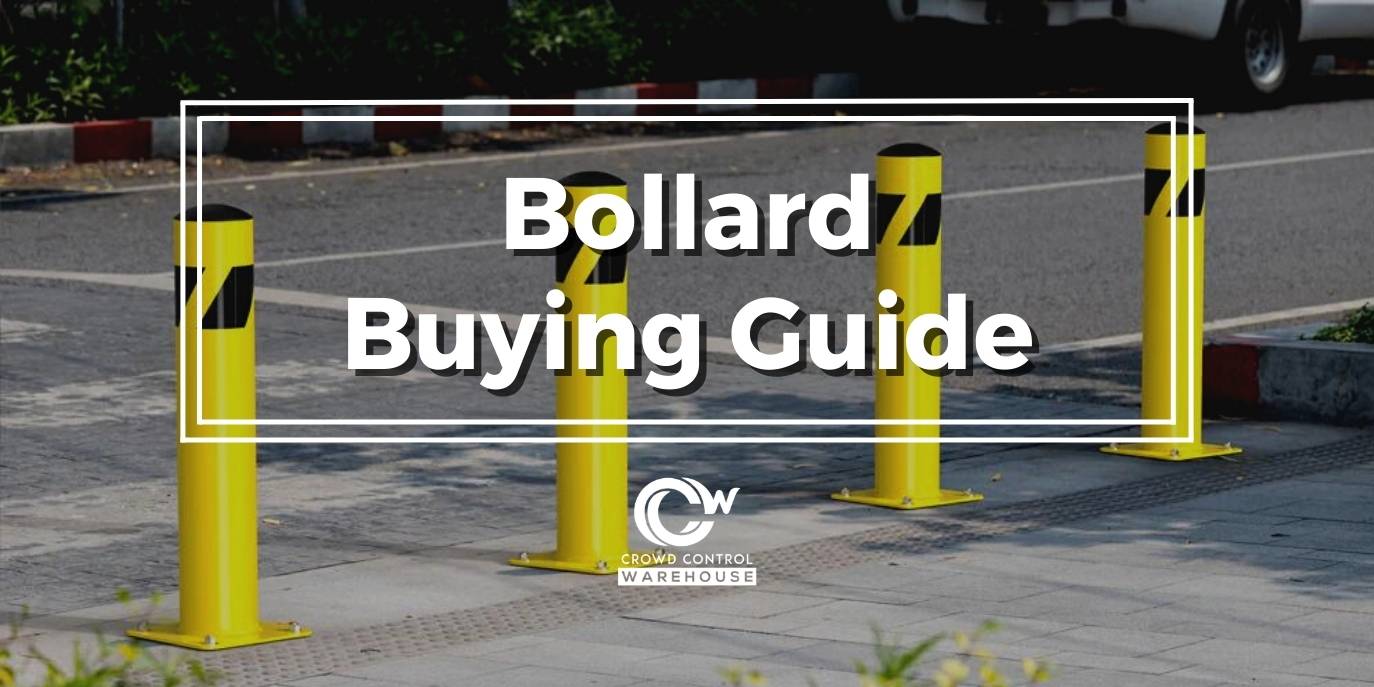 ---
When it comes to safeguarding pedestrians, managing traffic flow, and protecting infrastructure, bollards are a helpful tool. Whether you're a facility manager, an event organizer, or a business owner, choosing the right bollards is crucial to ensure optimal safety and security.
At Crowd Control Warehouse, we understand the significance of making informed decisions, so we've compiled this comprehensive guide to help you select the right bollards for your needs.
There are different factors to consider when deciding on what kind of bollard is right for your business or facility. Are you looking for a bollard that is visually appealing? Do you need a heavy-duty bollard for traffic or pedestrian control? What about portability?
Let's take a look at some of the specific types of bollards we offer to help you decide what will work best for your needs.
Heavy Duty Bollards
Heavy-duty bollards
are a great option when you need to provide a high level of physical security and safety. They are designed to resist vehicle impacts, effectively preventing accidental collisions, vehicle ramming attacks, or unauthorized vehicle access to restricted areas.
These heavy-duty bollards are also commonly used for traffic management, especially in pedestrian-only zones or bike lanes.
The heavy-duty bollards we carry come in a variety of materials. Don't see the material you need in a color that you like? We also offer various colors and prints of bollard covers to match your brand.
Take a look at some of our heavy-duty bollard options: 
Portable Bollards
Portable bollards offer several practical advantages in various situations thanks to their mobility and versatility. They are ideal for providing temporary security in specific areas or during events where enhanced safety measures are required. They can be easily set up and removed as needed, allowing for flexibility in security arrangements.
Portable bollards are ideal for large gatherings, concerts, sports events, or public demonstrations. They can be used to create designated pedestrian areas, control vehicle access, and ensure the safety of attendees.
Here are some of our most popular portable bollards:
Decorative Bollards
Decorative bollards
serve both functional and aesthetic purposes, enhancing the overall appearance of public spaces while fulfilling specific practical needs. Decorative bollards add an artistic and visually appealing element to public spaces, streetscapes, plazas, and other outdoor areas while still serving as a visual guide to direct foot traffic or define pathways.
Despite being primarily decorative, these bollards still offer a level of deterrence to vehicle intrusion, especially in low-risk areas or as part of a larger, more comprehensive security plan. In historic districts or preserved sites, decorative bollards can also be utilized to match the historic architectural aesthetic. We offer a variety of decorative style bollards to meet all your crowd control needs.
Some of our most popular decorative bollards include:
Bollards With Chain Loops
Bollards with chain loops (also referred to as chain bollards) offer additional functionality and benefits compared to standard fixed bollards. Including chain loops provides versatility and expands their applications in various scenarios.
One of the things that makes chain bollards so great is that they can allow you to temporarily control vehicle or pedestrian access to a particular area. By attaching chains to the loops, you can block or open pathways as needed, making them useful for areas with changing access requirements. We offer chain bollards with 1 or 2 chain loops to meet your specific needs:
Retractable Bollards
Retractable bollards offer several compelling advantages that make them an excellent choice for managing traffic and security in various environments. Their retractable feature allows for flexible control over access points, making them ideal for areas that require periodic restriction or permission of vehicle entry. The retractable mechanism ensures a clean and unobtrusive appearance when not in use, preventing visual clutter in public spaces.
Learn more about the Manual Lift Retractable Bollard.
Flexstake Surface Mounted Delineator Bollard Post
Flexstake Surface Mounted Delineator Bollard Posts are invaluable tools for traffic control. These delineator bollards provide exceptional visibility, enhancing safety for both pedestrians and drivers. Their surface-mounted design allows for quick and straightforward installation without the need for excavation, minimizing disruptions during setup. Finally, the flexibility of the bollard post enables it to withstand impacts from vehicles, bouncing back to its original position, thus reducing damage and the need for frequent replacements.
Learn more about the Flexstake Surface Mounted Delineator Bollard Post.
Investing in the right bollards is a proactive measure to enhance safety, security, and traffic management in various settings. At Crowd Control Warehouse, we take pride in offering a diverse selection of high-quality bollards to suit your individual requirements. By understanding your purpose, considering durability, security level, and aesthetics, you can confidently choose the ideal bollards for your needs. Explore our comprehensive range of bollards and elevate safety and security today!
For assistance and information on other crowd control products, please check our additional buying guides:
---
Share this post

---
---